The Southville Virtual Online Learning and Teaching (VOLT) Program has made a significant impact in the academic year 2020-2021. As it reflects the school's 5Cs Curriculum which stands for Competence, Character, Collaboration, Commitment to Achieve and Creativity, it has provided students with a meaningful, rigorous, and relevant virtual online education anchored on international standards, and supported by heavy investments in technological infrastructure and the professional development of faculty and staff. Southville is one of the most prepared institutions in the Philippines for digital learning having continually used online learning tools since 2010.
Committed to providing Virtual Online Expertise, Positive Online Learning Environment, and Technical Support to name a few, Southville has made it through the first year of conducting virtual online classes during the pandemic.
The VOLT Success Stories A.Y. 2020-2021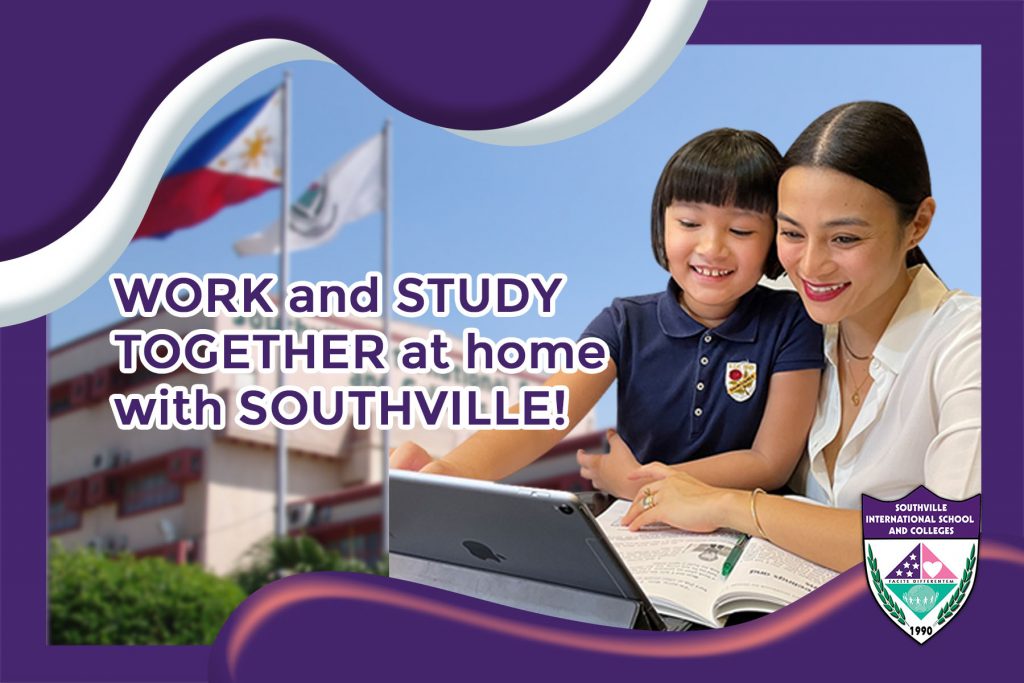 WORK and STUDY TOGETHER at home with SOUTHVILLE.
Through the VOLT program, it was made possible for parents and students to work and study at home together. One of the challenges parents have been facing during the pandemic is the handling of their children's school work at home. With the VOLT program that is teacher-led, Southville parents need not to worry about student activities and homeworks while working remotely.
"My daughter Adrianna and I spent the first year of the pandemic working and studying at home together. It felt like she grew up so fast even if she's locked down in our house doing her studies and homework. And as a parent, I was given an opportunity to watch my child blossom in her studies having done school work at home as I work too. Now, Adrianna successfully moves up to Grade 2, still as excited to do the Southville Virtual Online Learning and Teaching (VOLT) Program again. "
COMPETITIVE RATES make SOUTHVILLE our parents' school of choice here and abroad!
Here or abroad, parents still choose Southville. For one, our curriculum can match other international schools worldwide — at a COMPETITIVE RATE! Southville guided students towards global academic excellence while their parents SAVE UP for their future.
"We liked how Southville conducted their virtual classes immediately as soon as the pandemic occurred – the Southville Virtual Online Learning and Teaching (VOLT) Program, which are of the same quality as international schools abroad. Typical international schools offer international curriculum in many parts of the world. But what makes Southville stand out even more is their competitive tuition fee with the same quality global education, compared with the schools here in the Middle East. As a parent facing this crisis, I am relieved to have known a school that can provide my quality learning expectations with thoughtful consideration on the situation that we are all in."
At SOUTHVILLE, students excel in both face-to-face and online classes.
Southville has been a home away from home for many korean students. Yeon Woo Lee braved the first year of the pandemic alone in the Philippines so she could keep up with the transition from face-to-face to online classes. Finally, she is back in Korea with her family. She is a remarkable high school alumna who persisted against homesickness in the event of COVID-19, exemplified GRIT and GROWTH mindset in her last year at Southville, and even graduated with several awards and recognitions. It's an affirmation of our hard work knowing that many of Southville students thrived further amidst the challenges of virtual classes in the academic year that was – a year of profound change.
"When I first heard that students continue their education through online learning and via video calls with their teachers, I got worried. Having chosen the STEM strand, I was worried about whether the experiments and activities can go smoothly. However, with the guidance of the teachers during the Virtual Online Learning and Teaching Program (VOLT), I was able to do different experiments and activities at home, so it was easier to adapt to the VOLT. VOLT has not only helped me in my academics, but I was able to develop my leadership skills by joining clubs like the Model United Nations and Kindness Project. After graduating Southville's SHS, I know I am ready to adapt to my College online classes here in Korea as I had a great experience in Southville."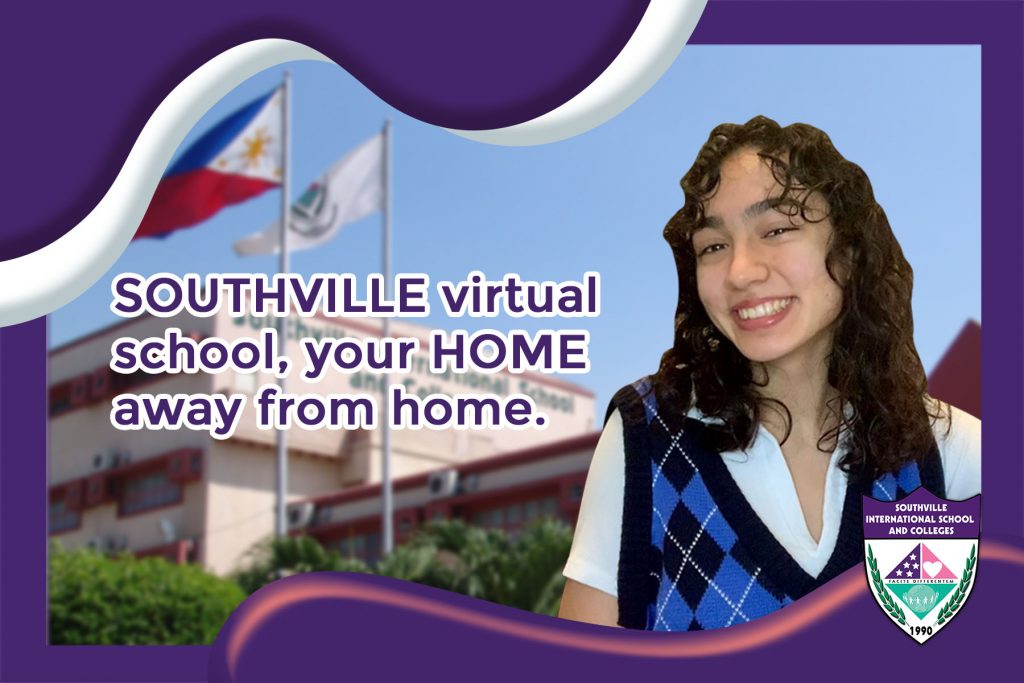 Southville VIRTUAL SCHOOL, your home away from home.
The pandemic has been a challenge as much as it has been an opportunity. While we can't do face-to-face classes, Southville has expanded not just to nearby provinces but to different countries too. Here's a bright smile from our first student based abroad who, because of the Virtual Online Learning and Teaching (VOLT) Program, still made it to Southville. Perseana Stavrinides is currently under the International Baccalaureate Diploma Programme (IBDP) all the way from the beautiful country of Oman. She is in high hopes of visiting the campus in person once the pandemic is over. For now, Perseana is having the best time of her life as a VOLT student despite the four-hour time difference.
"Years ago, my parents and I visited Southville in the Philippines. My parents loved Southville but hastily moving from the Middle East made moving difficult. Fast forward to when the pandemic happened, Southville and I found each other again online and there we learned how they made the Southville learning experience possible even to those living abroad through the Virtual Online Learning and Teaching (VOLT) Program. I was able to smoothly enroll into Southville as planned despite the travel restrictions. I feel as if I am still a part of the very close Southville family, while enjoying school from abroad and I can't wait to visit my school in the Philippines!"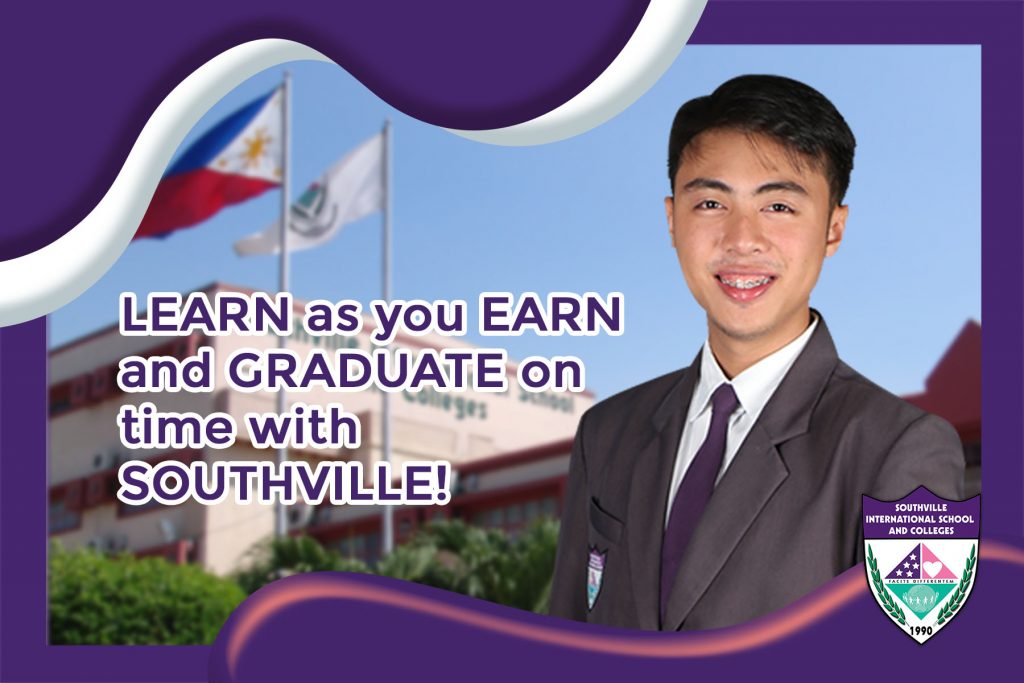 LEARN as you EARN and GRADUATE on time with Southville!
The VOLT program did not only help our students academically excel as they stay safe at home; it also allowed our students especially in the higher education division to juggle multiple roles be it for their families, their personal aspirations, or community responsibilities. Kiel Gutierrez , a working student, a student officer, a consistent Dean's Lister , and a successful VOLT student is here to inspire learners who wear different hats amidst the challenges of the pandemic along with school work.
"I needed to excel in school to maintain my scholarship. Speaking on behalf of the majority of today's youth, school has never been more challenging; more even so learning in an online setting amidst the pandemic, that even the slightest of all fortuitous events could bear tremendous impacts to school work. But through the Southville Virtual Online Learning and Teaching (VOLT) Program, I remained a consistent Dean's Lister. Southville helped me beat the challenges of online learning as I manage three (3) home businesses concurrently having no more than 4 hours of sleep everyday as a graduating student. Southville molded me into the man that I am today, much more when we all transitioned online."
Stay AMAZING while you STAY at home. Be Amazing. Be Southville.