The College of Nursing's Outdoor Educational Program last February 2019 turned out to be surprisingly, a memorable event for all the students. The activities planned for the day, though simple, fostered elements of restoring energies for the heart, mind and spirit.
The first stop of our field trip was by Northgate Ave in Filinvest Alabang. This was the location of Marillac Hills, a treatment facility that provide temporary shelter, custody and psycho-social interventions for sexually abused and exploited girls ages 7-18. It also provides services for female juveniles in conflict with the law who need social care and special protection.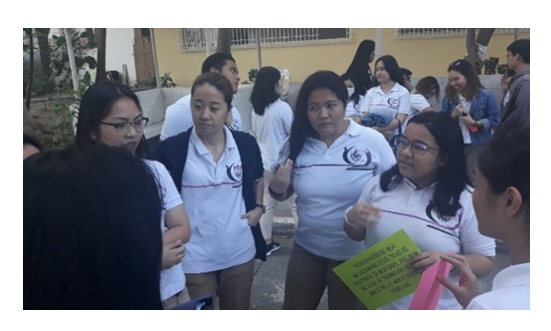 The experience that morning deeply touched our hearts as we listened to the life stories of these young residents. We were randomly paired up with a resident and for about an hour under the covered court we shared stories over a light snack. Part of the session was for us, student nurses, to provide health teachings and to respond to their medical concerns. After the serious, one-on-one interaction, it was time for the fun part of the program. Everyone participated actively in the team games and the dance numbers.
The morning program ended with another brief interactive lecture on relevant topics about physical and mental health. Finally, bidding goodbye was not easy for all. Even for that brief period, somehow emotional bonds were established. With a heavy heart and for some with tears, we gave the token, a hygiene kit, we personally prepared to our new-found friend, hoping to see each other again.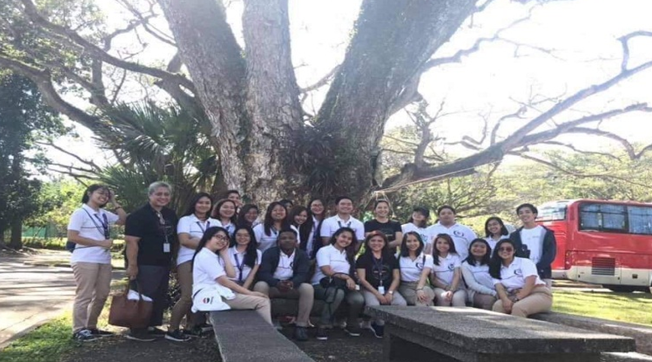 The second part of our trip was in the direction of Los Baños, Laguna where after a short-stop at an SLEX rest area for lunch we headed further south. After a two-hour drive, we arrived at the UP-LB Campus where we were scheduled to visit the two museums: Dr. Jose A. Solis Museum of Veterinary Anatomy and the Museum of Natural History. The tour of the museums stimulated all our senses. We not only saw the usual animal exhibits but also an exclusive collection of preserved animals grossly malformed and with birth anomalies. We were fortunate to be allowed to watch the process of dissecting a preserved horse in the laboratory next door, bearing the strong odour of formalin. In the following Museum of Natural History we saw and touched live exotic animals and plants not commonly seen an urban setting. The experience stimulated our scientific minds and at the end we gained better appreciation of our rich ecosystem.
After a short refreshing stop at Milka Krem, a campus store where fresh milk and yogurt was sold, we proceeded to our final destination, the National Arts Center on Mt Makiling. It was a place where, after passing through steep, winding roads we finally reached a refuge. It was a place we found to be conducive to renew our spirits. The location was so serene and peaceful, far away from the noise and congestion of the city. The cool breeze was refreshing and the view overlooking Laguna de Bay was breath taking. It was certainly a needed break for all of us from the weeks of hectic schoolwork. Before sunset we headed back to school…renewed…relaxed and refreshed!
*** Article contribution from Mary Xandie Zarceno, BSN Class 2019.