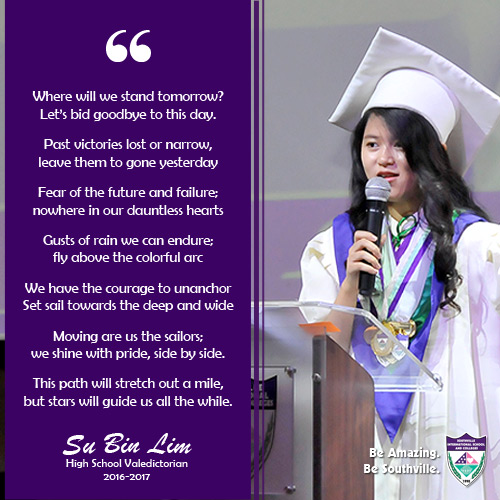 Good evening fantastic parents and guardians, fabulous teachers, and fellow graduates. I'm Su Bin Lim from Grade 12. I've been a Southville student since Grade 2, and ever since then, I've been witness to numerous changes. This place was once called Gym 1, and then it was called the Luxembourg Gym. Now, they call it the "Lux Hall". Fancy. This is just one proof of development, just like how our presence here as graduates is an evidence of progression and effort.
I came to the Philippines from Korea as a kindergartner. At the time, it was very difficult because I wasn't even fluent in Korean yet but had to learn a new language. I couldn't make friends; I couldn't understand a single thing at school. To top it all off, I had to struggle with that one stereotype: Koreans are good at math.
There were times when I drastically fell behind. When my other classmates excelled in exams and I didn't, I felt extremely incompetent and anxious. High school has really been tough as I noticed the gap between the others' and my capabilities. And as a sensitive teenager confused with her life, there were other problems outside the academic boundaries, like relationships—not to mention my love life—and personal conflicts.
Then I began degrading myself and my worth. I thought I was incapable and did not appreciate who I was. That led me to be less motivated with my school work, less interested in my hobbies, and awfully less confident. I did not see that I was becoming my worst enemy, instead of an ally.
After some time, I was exhausted and was about to give up. That was when I turned to my eternal frenemy—my brother—as a last resort. I was crying as I told him, "Antonio, I feel horrible." As usual, he was playing his game, and the answer that he gave me was really simple: "That's because you think you are." And to my surprise, he actually made sense!
I then began to see people who did not necessarily excel in academics. They were outstanding in other fields and they were proud of it. It took me a few years to realize that I don't have to keep up with the others. I didn't have to compare myself with other people. Everyone has their own pace, strengths, and weaknesses. Comparing was absolutely pointless; embracing and appreciating myself was what I needed. I was able to recover, find my own pace, and stand here in front of you.
I wouldn't have done it if it wasn't for my parents and Antonio. I'd just like to tell them, thank you so much and I love you. My tough times at school would have been even worse without the support of our beloved teachers and non-teaching staff. Mahal kita, thank you. My wild classmates, thanks for being crazy every day dancing to TWICE; I love you. And of course, my seven girls, thanks for helping me grow out of my three year old mentality. I love you.
Beautiful and handsome batch mates, let us embrace our different talents and be ourselves to further shine in the future. Great job for making it till the end of high school. Before we leave the "Lux Hall", I wish that we confidently bring with us our unique potentials, memories, friendships and values that we acquired in Southville to use them as our foundation.
Sir RD, our esteemed former deputy principal, I'd just like to borrow your famous phrase…I think the school, parents and guardians, and us graduates have just raised the bar. We all deserve applause.
We weren't able to make our batch graduation song, so I'd like to recite its lyrics that I wrote to hopefully end this speech inspirationally:
"Empty Chairs"
From your loving arms we leave; no, it isn't a farewell
Waiting to be found are our feat
Those empty chairs mean well
A few more strides we'll take to bring down the curtain of youth
With growing comes the aches; not crowns, shining and smooth
But our spirits won't fall apart for we stand here with a heart.
Where will we stand tomorrow? Let's bid goodbye to this day
Past victories lost or narrow, leave them to gone yesterday
Fear of the future and failure; nowhere in our dauntless hearts
Gusts of rain we can endure; fly above the colorful arc
We have the courage to unanchor
Set sail towards the deep and wide
Moving are us the sailors; we shine with pride, side by side.
Together we march and sing the last song for a beginning
Our voices echo forever to shine our future endeavors
Walk through the long red aisle to the ending page with a smile
This path will stretch out a mile, but stars will guide us all the while
Those empty chairs mean well; it isn't a farewell.
Thank you all for listening. Congratulations again to all graduates.