Generation Y has raised the bar for modern parenting with driving passions and deep curiosity about our drastically changing world. We live in an era of globally competitive individuals all eyeing the highest rung of the ladder of personal and professional success; a generation influenced by personalities as diverse as Mark Zuckerberg, Elon Musk, Richard Branson, Yo-Yo Ma, Kanye West, and Kendall Jenner. It takes a broad parenting skillset for a mother to embrace the responsibility of meeting these expectations as one nurtures globally productive citizens in the 21st century.
Dr. Marjorie S. Gutierrez – Tangog is a mother of two. Her two daughters, Gwyn and Lyn, respectively excel in academics and performing arts. Apart from this, Dr. Tangog leads the Southville community as the Vice President for Academics & Research. Formerly the head of the English Department, Dr. Tangog has published and edited a multitude of academic research and pioneered the in-depth training of Southville employees. She has been instrumental in the PACUCOA accreditation for Southville International School & Colleges.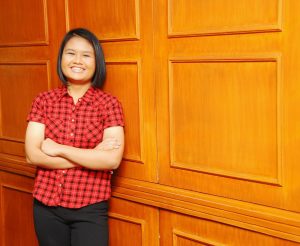 Photo caption: "My mom has instilled in me the value of taking initiative which is essential, or else nothing would happen. I think that made me sharpen my leadership skills. She's the person I usually turn to her in those 'I'm scared,', 'I'm going to die,', or 'I don't know the people there' moments before a competition."
Gwyn, as the eldest daughter, is known for her serious and highly logical nature. She is a familiar face at local and international academic competitions. She has developed a keen interest in mathematics, critical reading, and music. "I remember bringing her to the bookstores when she was younger, and, during those times, she would ask me how much her budget was. The moment she would get the amount, she would explore on her own and show me afterwards a handful of books within the range of the budget I gave her," Dr. Marj recalls in an interview. In addition to her academic drive, Dr. Tangog has encouraged Gwyn's abiding love for reading and music, particularly on string instruments; she also shares opinions and teaches Gwyn as necessary regarding discussion topics they have such as social issues, observed teenage issues (not her own), and mental health. "Our house at one time looked like a preschool and provided her with study materials that would interest and challenge her. As she got older, a time came when books here in our country no longer challenged her, so I had to buy them abroad to meet her needs," said Dr. Marj. Conversely, Gwyn's socially distant moments in her early years impacted her ability to easily engage with people. Fortunately, her mother's affable example and guidance have encouraged her to develop her intrapersonal and interpersonal skills, and that has helped Gwyn cope with social and personal pressures, especially when competing. As Gwyn has matured, she has seen the value in her mother's remarkable intuitive sense and confidence.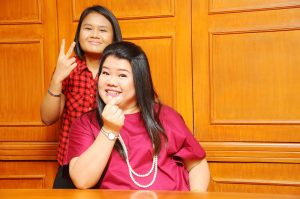 Like two peas in a pod, this duo's indefatigable passion for education shines brightly. But just like any other mother and daughter, the two talk about various topics, from the mundane to the profound, including the simple things. Gwyn and Dr. Tangog share an unbreakable bond and the comfort to share (and question) anything. "My serious relationship started when I was twenty-eight. I promised myself that if I were to have a child or children, it will be of God's leading that I shall serve a higher purpose." This higher purpose has extended not just to her family but also to the people under her wing at Southville, from students to faculty to staff. She is a leader to look up to both at home and on campus. As a mentor, Dr. Tangog would rather express "faith" than "expectation" because the key to successful leadership is not a pure establishment of rules for people to follow, but the ability to encourage people to walk beside you.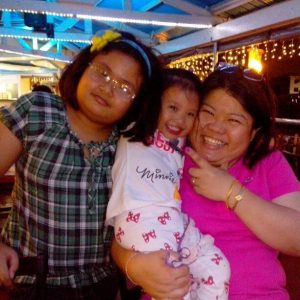 Dr. Marj with daughters Gwyn and Lyn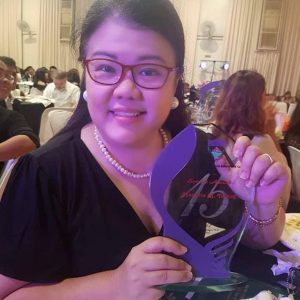 Dr. Marj as she turned 15 in Southville
"For my kids, I have faith in them that they will do their best. My kind of best is the level of excellence that becomes the next standard. For the Southville students and colleagues, I have faith in them that they will not settle on mediocrity but rather strive on producing excellent ideas, initiatives, outputs, and outcomes."
Southville is serious about its sole responsibility to develop a person's growth mindset. Each student is assessed, trained, and groomed accordingly in all aspects of their learning capacities. Differences are not obstacles but rather opportunities for everyone to share their respective perception of a particular topic and life as a whole. Persistent team collaboration cleaves to Southville's reputation as a caring community.
Modern parenting is focused on understanding the innate personality of a child. From there, parents experiment on the ideal approach, tailoring it to each child's needs. The way that Dr. Marj raised Gwyn is an example of a balanced strategy for entering the world of today's youth and earning their trust and respect so that personal discipline and virtue can be instilled from a formative age. Gwyn is part of the living legacy of her mother and Dr. Marj couldn't be more thankful to see in Gwyn the fruit of her love and labor.
Dr. Marj continues to make a difference in the lives of the people she leads. Balancing motherly tough love with nurturing care for students and colleagues, Dr. Marj is beloved at Southville. She pushes everyone around her to strive harder, aim higher, and claim those once in a lifetime opportunities with the best foot forward.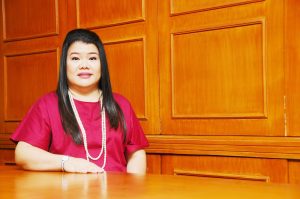 "I am strict but I will make sure they know why. I don't express love by spoiling them, I want them to feel my love through discipline. In my spare time, I usually read or sleep as my brain works beyond the normal eight to five working schedule. Personally, my purpose is to help this country reach that gold standard of quality teaching because the Philippines is struggling to get there.''
If there is one thing that Dr. Marj would like to pass on to this generation, that is a well-developed critical thinking skill combined with the maturity to speak diplomatically when voicing our thoughts. She hopes parents will never tire of getting to know their children and not force them to become someone that they are not. She believes that each of us is born to become our own person and that proper guidance is simply the key to bring the most out of our admirable myriad qualities. The next year to come is another challenging yet exciting journey of her life in the academe. Dr. Marj, together with the rest of SISC officials are better prepared and equipped, with the most effective strategies, as they work to nurture the next generation of global leaders, the intellect and upbringing of the Gen Ys. Dr. Marj leads the way for the institution by mentoring the next generation of no-nonsense, tough-loving, and nurturing colleagues to ensure the success of multi-award winning mathlete, Gwyn, and her hundreds of fellow students.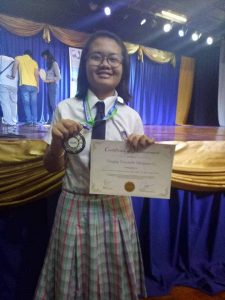 Gwyn at one of her international competitions
Summary of Gwyn Tangog's Notable Academic Awards:
International Competitions (GOLD)
– Southeast Asian Mathematical Olympiad (SEAMO) – Top 8 in Domestic Rankings and Top 28 in Global Rankings
– Singapore and Asian Schools Math Olympiad (SASMO) –  gold
– International Competitions and Assessments for Schools (ICAS) Math Top scorer and given a gold medal by the University of South Wales, Australia
– International Mathematics Contest (IMC) Singapore
***   – Challenge for Future Mathematicians (CFM), Malaysia
– > Team Competition (3rd place but medals were ALL gold)
– > Individual Competition (SILVER)
International Certificates
– International Competitions and Assessments for Schools (ICAS) Math (High Distinction)
– International Math Assessment for Schools, 1st round (High Distinction) – The 2nd round will still be in March/April
National Competitions/Awards
– MTAP Private Sectoral for Category A Schools (First Honors)
– SBA Math Perfect Scorer (Gold)
– International Teen – Agers Mathematics Olympiad (ITMO) National Parallel Cluster (Gold)
-Area Stage Qualifier in the Philippine Mathematics Olympiad