Southville International School and Colleges (SISC) made it to the list of selected libraries chosen by the Bangko Sentral ng Pilipinas (BSP) for its initiative of a well-managed inflation and increase on the country's financial literacy. SISC has been chosen in terms of its competent business program from preschool to graduate school and its good population of future entrepreneurs who can aid to the country's economic development. Ms. Nelia R. Balagapo, BSP Economic and Financial Learning Center's Manager spearheaded the briefing on what is called Knowledge Resource Network (KRN), introducing the business books students and faculty can use for free.
BSP specifically donated books as references for students and faculty, aligned with the institution's reputable course in the field of finance and business. The books vary from BSP Reports, Philippine Banking Laws, Bangko Sentral Reviews, and Art Books on financial aspect. These references are not limited to print as online materials will also be provided by BSP to Southville. Ms. Balagapo specifically mentioned that these can be used for research contents, lesson plans, and advance reading, helping the libraries reach and instill a deep financial curiosity to its respective readers.

Southville highly values quality and credibility in its service thus, such partnership with the country's respected financial organization gives its students a broad and instant opportunity to deepen their financial comprehension. Quality references provided by BSP will ensure accurate findings to its readers. Moreover, BSP is willing to extend its support through a variety of events that will forge camaraderie and build networks among librarians, educators, students, and finance practitioners. "This partnership is very significant in delivering the financial literacy program of SISC provided with a plethora of quality resources, such as print and online references",shared by Ms. Josellie Opao , Subject Area Head for Business, Basic Education Department.

"Over the years, Southville International School and Colleges has pursued a strong advocacy to improve the financial literacy of its students. From Basic Education to Graduate School, Southville has endeavored to produce men and women who capable of developing a bright financial future for themselves and their families. The BSP partnership will seek to strengthen this advocacy by providing the institution, its faculty, and students with important information and data regarding the financial and economic conditions both nationally and internationally. With the available "database" given by BSP through this program . . . the level of learning in finance, economics, and business will be further heightened since data and information will be at the learners' 'fingertips'. Lessons will now have updated data, making learning more accurate." Dr. Vic Manabat, College of Business Dean.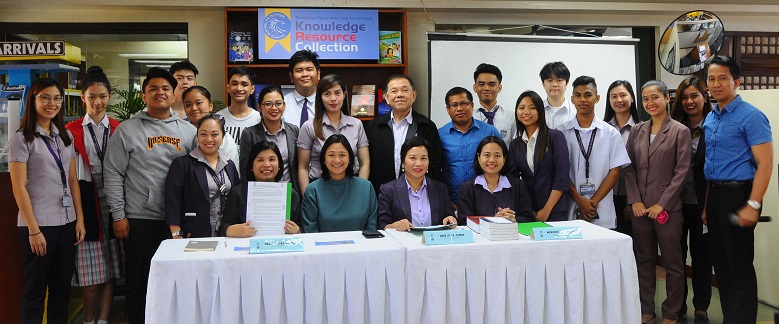 The partnership was made official through a Memorandum of Understanding signed by SISC President Ms. Jocelyn P. Tizon, SGEN Manager for Student Services Ms. Mersheil P. Balela, and Ms. Nelia R. Balagapo representing BSP. The event was attended by SISC College Director Dr. Felma Carlos – Tria, College of Business Dean Dr. Vic Manabat, Subject Area Head for Business Ms. Josellie Opao, BSA, BSBA and Entrepreneurship Program Coordinator Ms. Minerva Ganaden, students, the SISC Library Team, and Mr. Rene Aligonero as its host.