Ronald Suayan, a Filipino American in his mid-30s, applied to Southville's BS Nursing (BSN) program as a 'second-courser', a label given to adult students coming into the program having completed a previous course. He was surprisingly a well-accomplished professional having completed his Masters of Science in Chemistry-Medicinal Chemist from Stevens Institute of Technology in 2002. He had already completed several research publications and patent inventions under the Wyeth Research Oncology Drug Discovery Grants, which were significant laboratory studies that looked into chemical compounds for the treatment of tumors. Despite these accomplishments, Ron showed genuine interest in his new academic endeavor, learning about the art and science of nursing, the caring profession.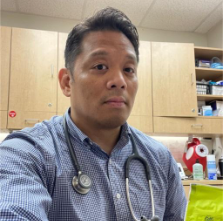 He took on the four-year coursework seriously, attending all the theoretical nursing subjects and completing the clinical hours of the program's related learning experiences. He especially enjoyed his Community Health Nursing immersions in the poor urban community, a nearby adopted community of the College of Nursing where students apply their health promotive and illness prevention programs.
Ron blended well with his younger classmates as he was regarded as a 'Kuya'. He felt at ease with his classmates, enjoying the fun activities in the BSN program. He was completely immersed in Filipino culture and imbibed the values of love for family, respect, hard work, and compassion.
After Ron graduated from the BSN program in 2015 and settled back in the US with his family and children, his strong desire to accomplish more as a nursing professional led him to pursue his postgraduate studies. In May 2021 he graduated with honors with his Masters of Science in Nursing degree from Bradley University, Peoria IL, and is now a board-certified ANCC Family Nurse Practitioner. He was inducted into the Honors Society and Sigma Theta Tau from Bradley University and earned Today's Top Nurse Practitioner 2022 Award. Currently, he is completing an extremely selective residency fellowship program in cardiology outpatient and primary care at Hackensack Meridian Health as a nurse practitioner. Since 2021, Ron has also been working with the Medinova Physicians group in internal medicine serving the underserved and minority population in Paterson NJ.
One significant testimonial he shared was, "All of my preceptors were impressed on how much I was instilled to care and empathize with my patients more than my American counterparts and how knowledgeable and competent I am as a future primary care provider. With great satisfaction, I can say I learned it from Southville Nursing Program and its teachers. They were impressed by my experience in the Philippines and the work we had done in the poor community and I explained to them our 5 C's core values. I am reassured and hopeful you are continuing this with future nursing students as I watch your posts of photos and videos on social media. As a continuing learner, I will pursue my DNP which will take an extra year and a half or two. Some people say I am too old, some people think it's a waste of time and stops. I say why not, never too old to make bigger changes to as many lives as I can and it keeps me young at heart."
Ronald Suayan is one of the many students who ventured on novel career paths in their mid-thirties and discovered new-found fulfillment in life.
We had a quick chat with Ronald where we asked him about his Southville experience.
Which part of studying at Southville did/do you enjoy the most and why?
The part I enjoyed studying at Southville is how thorough the instructors and administrative office are with my learning and the entire experience. I found that after years from my last steps at Southville, I can still hear and recall the lesson of the 5 C's I was instilled during my BSN training.
How has Southville made an impact on your life so far?
Southville has impacted my life by opening opportunities and doors I did not imagine were available for me abroad. Southville provided me with the tools I need to be a life-long learner and to teach others. The people I have met which include teachers and classmates still impact my life by providing me with references and correspondents just an email away.
What was your learning style?
My learning style is that I am a self-learner, explaining to others what I have learned, and applying them to real-world problems. I also like to experiment and run different possibilities to see how little changes can create big responses to become more efficient and effective. I am in the healthcare field as a Family Nurse Practitioner so I see patients like a regular physician. I learn from other people's experiences and input every day. Hopefully, in the near future, I will be able to open my practice and share my experiences with other future nurses or nurse practitioners.
How did you know about Southville?
I heard about Southville through a referral from a friend when I was searching for BSN programs near my local area. I recall them saying "You should look into Southville. They are top notch and classroom sizes are manageable and up to date".
Why did you choose Southville?
I chose Southville because of its reputation, cleanliness, demographics, and location. I also like the fact that they are private and give individual attention which is important in navigating your learning experience.
What was your most memorable experience as a Southville student?
My most memorable experience as a Southville student is the group activities they encourage such as Sports fests, class competitions, and academic challenges like debates.
What would you like to say to other parents/students considering Southville?
I would tell other parents and students to seriously consider Southville as your higher learning institution. In my opinion, I think they would not be disappointed. Southville, I feel, offers a different level of academic service that is equal to or even better than some colleges or universities in the United States which can cost lots of money.
Any other things you wish to share with the Southville Community?
Southville I can say compared to other schools will provide you with the experience and academic tools you will need to succeed in your child's endeavors. Nursing is a second career for me. In my previous career, I was a medicinal chemist working at the top pharmaceutical companies and received a master's degree at a top engineering school, Stevens Institute of Technology. I went to the Philippines as a Fil-Am seeking to broaden awareness of my family roots where I found Southville. I am happy and satisfied I made the right choice.