Southville College Division capped off the first semester welcoming incoming, transferring, and current students in a virtual gathering recently. It started with a LIVE virtual talk show on Living Life in the #NewNormal led by its celebrity ambassadors Jodi Sta. Maria, Nash Aguas, and MIka Dela Cruz together with SGEN campus student representatives for higher education Jolo Feliciano and Raine Salamante of Southville International School and Colleges (SISC), Kyla Rebrora of Southville International School Affiliated with Foreign Universities (SISFU), and Jessica Guitierrez of South SEED-LPDH College (SSLC).
SISC College and Graduate School Director, Dr. Felma Carlos-Tria virtually extended her admiration to college students and faculty who, despite the turn of events, made it to their daily online classes and adapted to the huge transition; a collaboration made more meaningful by a common goal to come out stronger than the crisis that has been keeping us divided through distance and screens. "They have my admiration because they have made a tough choice – to continue schooling despite any circumstances," said Dr. Tria in her welcome remark. Everyone was all ears the moment the Q&A began with questions on the given topic such as developing new hobbies from Jodi, coping creativity from Jolo, the struggling business industry from Nash, the global impact of the pandemic from Kyla, back-to-school journey amid a crisis by Mika, students in time of a drastic change from Raine, and boosting social morale by Jessica.
Here's the link to the full video on SISC's Facebook page:
https://fb.watch/1XA4yyC4t0/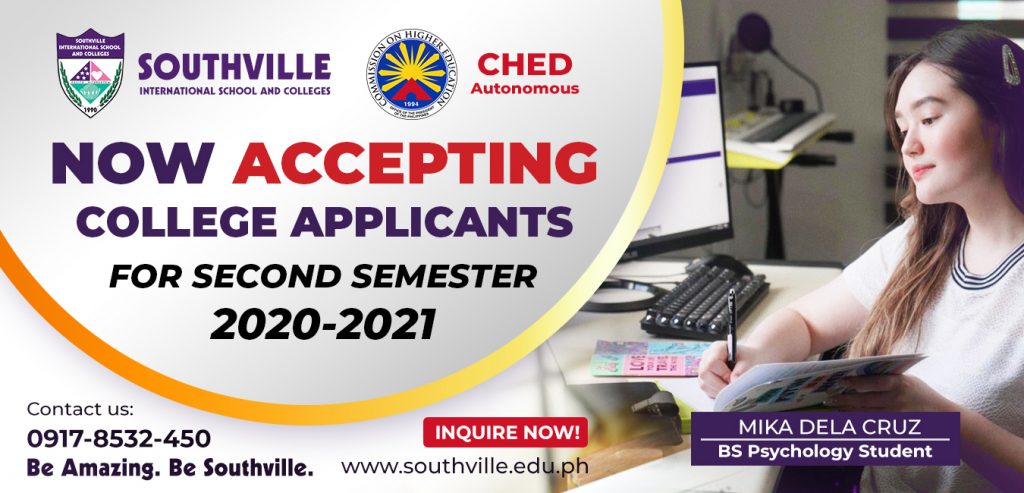 Welcome to Southville International School and Colleges, College Division, granted "AUTONOMOUS Status" by the Commission on Higher Education (CHED). Southville College Division now accepts students for second semester, A.Y. 2020-2021.
Through the Virtual Online Learning and Teaching (VOLT) Program, Southville ensures continuous quality higher education to its students while they stay safe at home until the quarantine period is fully lifted. Currently, all programs are delivered virtually. The Southville Virtual Online Learning and Teaching or  Southville VOLT uses the Online Learning Management System (LMS) through MOODLE for college. Collaborative applications such as the Google Productivity Suite (Docs, Gmail, Meet, Hangout, Google Classroom) are used to encourage class interaction, engagement, and promote effective learning. More sophisticated areas of online learning management namely Flipped Classroom, Big Data Analytics, Real-Time Data, and E-mail notifications are being used to manage students' progress and connect with students and parents. The LMS (Moodle) allows students to access all notes, lectures, formative assessments, announcements anytime, anywhere. While internet connectivity is a basic requirement in learning successfully online in a class,  students  need not to worry about internet connection as lessons will be recorded live while the rest of the lessons will be uploaded on Moodle which the students can access 24/7. 
Southville offers topnotch programs – BS Nursing, BS Psychology, BS Accountancy, BS Accounting Technology, BS Business Administration in Marketing Management, Human Resource Management, and Financial Management, BSBA Double Degrees in Marketing Management with BS Entrepreneurship with BS Marketing and Human Resource Management with BS Psychology, Bachelor in Elementary Education, AB Communication, AB Multimedia Arts, BS Tourism, BS Entrepreneurship, and BS Information Technology major in Artificial Intelligence.
Join a school of College Board Topnotchers today!
Email us at:
pr@southville.edu.ph
Call us at:
09062085383 | 09178532450
8825-6374 (100)