Southville International School and Colleges (SISC) – Basic Education is honored to receive the approval from the Department of Education (DepEd) for the resumption of its face-to-face classes. Program levels grades 1, 2, 3, 12, and the International Baccalaureate Diploma Programme (IBDP) 2 have been preparing for its anticipated return to campus.
During the application in 2021, DepEd issued the School Safety Assessment Tool (SSAT), initially issued as School Readiness Checklist in 2022,to assess the readiness of schools to participate in the conduct of the pilot implementation of face-to-face learning modality. Southville International School and Colleges (SISC) – Basic Education  accomplished the SSAT on December 27, 2021, led by its principal, Dr. Marie Vic Suarez and respective program level heads.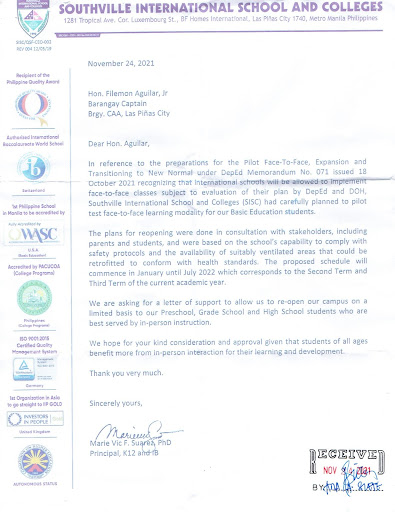 The institution has secured support from Local Government Units (LGUs) and community stakeholders including Las Piñas City Health Office alongside a written consent from participating parents and students. Teachers and key staff health profiles have also been secured requiring full vaccination while unvaccinated employees are required to submit a negative RT-PCR result every two weeks. Work arrangements remain flexible as Southville opens its virtual and physical classrooms.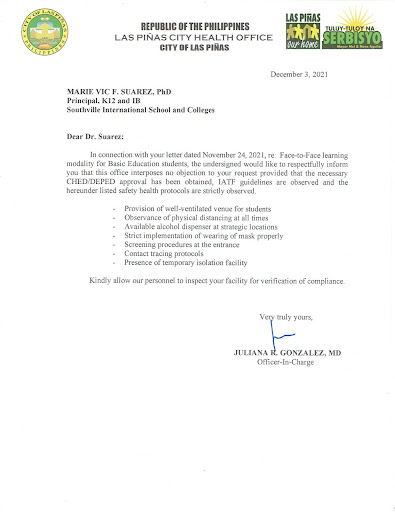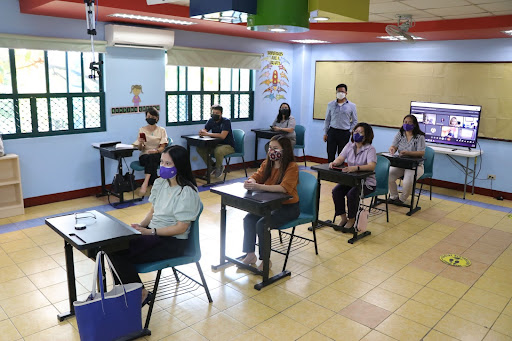 Classroom Layout includes electric fans over air conditioners for safer ventilation, widely-opened doors and windows, and seats strictly measured one to two meters apart with exact headcount from participating students. The school has also invested in school-wide, high-technology equipment such as air purifiers and thermal scanners.
Parents and students' profiles are strictly assessed for face-to-face class qualification. It varies from area of residence, mode of transportation, comorbidity status (Covid and non-Covid), childcare needs, parents' worksite, adult supervision necessity, online learning competence, and mental health status. Hence, parents and students prioritized for physical classes should reflect the utmost necessity and consideration while the rest continue to take the Virtual Online Learning and Teaching (VOLT) program at the comfort of their homes.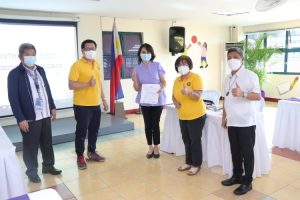 Officials from DepEd graced Southville with a special visit on February 8, 2022 with an up-close and personal experience on how prepared the basic education team is. Facilities were shown and key academic and safety officers were introduced alongside the official presentation of agreed protocols and final reminders. The Southville Basic Education Division has long prepared for the resumption of its face-to-face classes happening on February 21, 2022. For more information, call us at 8825-6374 local 100.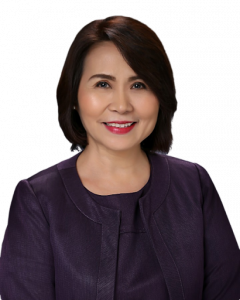 Message from Dr. Marie Vic F. Suarez
Principal, Southville Basic Education Division
After almost two years of campus closures due to the pandemic, Southville International School and Colleges (SISC) students can once again experience the joys of going to school with the reopening of limited face-to-face classes this February. SISC passed the School Safety Assessment Tool, and secured the approval of the Department of Education (DepEd), the Department of Health and the local government who assessed the school's preparedness for in-person classes in their campus visits.
The government officials noted the retrofitted school facilities and the observance of minimum health standards in classrooms to allow the return of on-site learning. So far, only Grades 1-3, as well as Grade 12 students, are allowed by DepEd in the pilot implementation. We are all looking forward to meeting our students again in person!