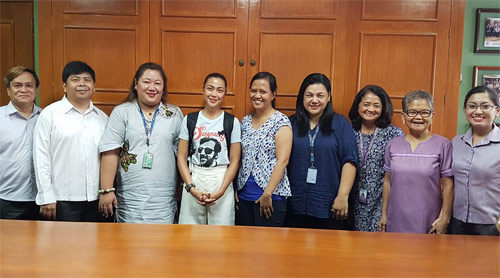 June 6, 2017 – Renowned actress Jodi Sta. Maria proved that not even show business can stop her from pursuing her dreams as she enrolled for BS Psychology in Southville International School and Colleges through the INNOVE Education Solution.
Jodi will be taking BS Psychology as a premedical course, a stepping stone to medical school.
"It is Jodi's dream from the start to be a doctor. Being in the field of Psychology will prepare her to see a different perspective of medical course. Her selfless intention to help people will guide her in understanding people's mind and behavior. We in Southville – College of Psychology got her back, and will surely give our 100 percent support!" says Dean Ruel Cajili of College of Psychology.
"I'm glad that Southville has the INNOVE Program that made studying more convenient for me. As an artista, I know that it is important to finish schooling and for me, age is not something to be shy about. It is good to have a diploma knowing that you have a fallback," says Jodi Sta. Maria.
Jodi also graduated high school through Southville's INNOVE Education Solution. Unlike a full-fledged home school, INNOVE is a blended type of learning that allows students to study and complete requirements following a special schedule. A student enrolled in this program reports to school at least once a week for written exams, hands-on exercises and further discussion/clarification about the topics with the instructors. Some students in INNOVE Education Solution are professional athletes like Abegail Arevalo of ICTSI-TCC RP Golf Team and celebrities like Winwyn Marquez and Coleen Garcia.