---
17-year-old Miguel Dominico M. Alzona, a Southville homegrown student, is the first to graduate at the highest rank in his class for the Southville International Baccalaureate Diploma Programme (IBDP). Back in 2018, Alzona was declared as the Top Filipino Scholar at the World Scholar's Cup – Tournament of Champions in Yale University. In the same year, he was also awarded by the New York Times for his 500-word opinion piece entitled "Africa's Curtain Call".
Alzona obtained nine (9) university acceptances worldwide for his dream profession, a Pharmaceutical Scientist. The list includes the University College London (MSci Hons), University of Toronto (with scholarship), University of British Columbia, Imperial College London (Hons), King's College London, University of Nottingham (MSci), University of Manchester, Ateneo de Manila University (Hons),University of the Philippines, and his chosen university – University of Toronto (with scholarship).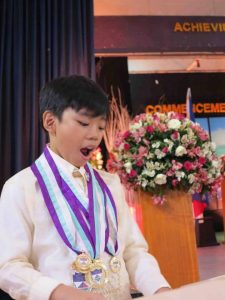 Early Years: Developing An Achiever Mindset
Miguel joined Southville International School and Colleges (SISC) in 2006 at the Junior Kinder level. He loved the sciences particularly Chemistry leading to his goal of becoming a Pharmaceutical Scientist. Alzona used to be very shy and quiet which is typical to the nature of his dream line of profession. Although born an introvert, he began exploring his potential as an academic varsity team member through the guidance of his parents and teachers. He also ventured into writing and mathematics and was notable for getting high scores in Southville's Comprehensive and Developmental Reading Program able to read at the age of 2. 
A consistent awardee of academic excellence, Miguel graduated valedictorian in elementary in 2014. He was also a recipient of the Gerry Roxas Leadership Award after finishing junior high school in 2018. He initially pursued a career in journalism and soon developed passion for the sciences, particularly Chemistry. Alzona used to be very shy and quiet which is typical to the nature of his dream line of profession.
Miguel started competing in Grade School. His first win was dated back in 2013 for the MatSciAka. At this stage, Alzona had broadened his understanding of hard work and Southville's core values, the 5Cs – Character, Competence, Collaboration, Creativity, and Commitment to Achieve. "Among the 5Cs, it is Creativity that I find I exemplify the most; in all endeavours I undertake, I always find some aspect to make my own, to uncover and wander through my own unique path in adverse circumstances or situations, something that is uncommon yet works," he said.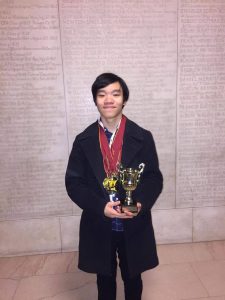 IBDP: A Top Filipino Scholar
Sothville is a community of academicians who are goal-oriented along with IBDP's mission to develop lifelong learners possessing intercultural understanding and respect. The rigor of Alzona's academic journey was further appraised by the challenges of the International Baccalaureate Diploma Programme (IBDP) and the major competitions that awaited his participation; more likely, his destined global recognition. Alzona got better and better in training and classes and was unstoppable to become the Top Filipino Champion Scholar at the 2018 World Scholar's Cup – Tournament of Champions in Yale University which made his name locally and internationally. The introverted young man became the talk of foreign delegates abroad and his fellows in the Philippines. Miguel Dominico M. Alzona brought his alma mater one of the highest intellectual achievements a Southville student could ever attain. Alzona is indeed a determined student joining the rest of Southville alumni who are not just achievers but record-breakers.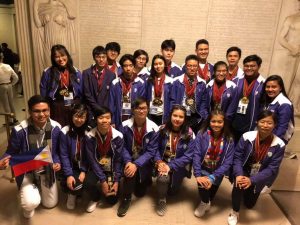 The World Scholar's Cup (WSC)
Alzona was one of the pioneer delegates who represented Southville at the World Scholar's Cup in Yale University. Among the four point-earning areas of the tournament, he excelled in Collaborative Writing.
"Miguel knew that he needed to step up to the challenge and become a well-rounded scholar to succeed in the competition. He is truly exceptional. He excels in all areas with specialization in Sciences, Writing, and Literature. I can consider him as one of the most outstanding student-writers I have mentored for his extensive use of vocabulary, coherent and concise paragraphs, and critical and creative approach to different issues across various areas of disciplines. More importantly, I really appreciate that he is collaborative, strategic, passionate, and persevering. He can work well with different people. He knows how to delegate tasks well turning challenges into opportunities. He values the suggestions of his teammates and tries his best to build on them to come up with the best possible solutions, approaches, or plans for the task at hand. For every qualifying round surpassed and every medal and trophy received is an untold story of passion, perseverance, and sacrifices," shared Mr. Gio Pastor, WSC 2018 Head Coach and 2019 WSC Coach of the Year – Global Rounds
*What made you decide to join?
I've joined a number of local & international competitions before, but WSC was the first one that really integrated and entangled different activities and subjects under one competition. I also wanted to take on the opportunity given to me, as it was a first for Southville to take part in the competition.
*What were your challenges and how did you cope?
I think one of my weak areas at first was debate, but my teammates really helped me come out of my shell and be more confident with public speaking. There were also times when we all just kind of got overwhelmed by the syllabus and everything, so simple hearty conversations and just the genuine warmth and sense of family around really helped.
*What does it take to be a Top Filipino Scholar?
I think most of my success in WSC was out of pure luck and pure love for my teammates and the academe. To be honest, I find it odd being called the "Top Filipino Scholar" when my academic varsity teammates worked just as hard, some even harder than me, and deserve just as much praise for their feats and accomplishments in the competition. They are so inspiring and talented with such beautiful minds!!
*How is the WSC influential to your academic journey?
WSC allowed me to acquire a more global and adaptive outlook, and really helped me with essential skills in school like my revision habits and writing & speaking skills.
The New York Times – Asia Pacific Writing Competition
"As a former editor in our school paper for junior high, my list of passions have always included creative writing and journalism. Writing will always be an indelible passion of mine, and would be essential to paint the picture that is me. During my time in IB, I've had to write countless essays across the academe, but most notably for my Literature class and for my IAs or individual research papers for each subject."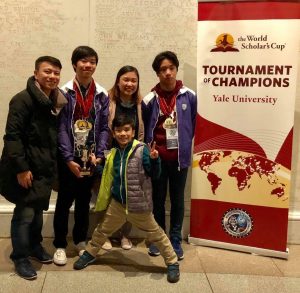 Origin: A Family of Education Enthusiasts and Business Practitioners
A student's academic excellence is either innate or developed. For Alzona, it could be both. Coming from a family of educators and business practitioners, no wonder that he possesses an innate love for learning and laudable leadership skills. Miguel shares an elite academic recognition with some of his relatives – Encarnacion Alzona, the First Filipino Woman to have a PhD degree and Augusto Alzona, the Father of Manila Science High School. Miguel is born to Mr. Michael Alzona and Mrs. Tala Martin Alzona and has two brothers who are also achievers, Mikhail Astin and Mishael Lorenzo Alzona. A silent worker, as most of his teachers and classmates say, Alzona quietly endeavoured a unique path that worked him towards the peak of his academic career given the brilliant family he was born into, his inspiration.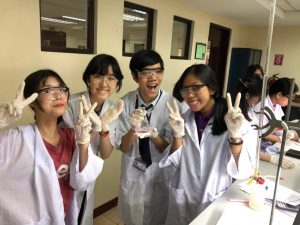 University Choice
The University of Toronto (Ontario, Canada)
"I chose the University of Toronto because it has one of the most internationally diverse & inclusive student bodies among top universities worldwide. It's an elite, prestigious & highly reputable institution – #1 in Canada and #4 for pharmacy / pharmacology. It offers so many opportunities for undergraduate research & internships and I can mix and match majors and minors in arts & sciences so I can pursue my different passions & academic interests. Moreover, it's in a safe, well-governed country."
Message to Southville
"I reminisce and thank a school that has been the birthplace of my firsts, and has truly felt like—for fourteen years, and only second to my true—home. From Junior Prep in what used to be Elizalde Campus to IB in Tropical, I guess you could say I spent half of my life trudging through the halls of SISC, where I've made countless memories I will cherish forever. My accomplishments and achievements would not have been possible without the support, encouragement and guidance of so many significant people in my life."
Miguel Dominico M. Alzona
Southville International School and Colleges
International Baccalaureate Diploma Programme (IBDP)
Class of 2020
Local and International Awards
UNSW ICAS Mathematics – 4-time Distinction Awardee
UNSW ICAS Science – Distinction Awardee
International Mathematics Assessments for Schools – 2-time Credit Awardee
Australian Mathematics Competition – 2-time Credit Awardee
2-time Sectoral Team Finals Qualifier in Metrobank-MTAP-DepEd Math Challenge
People's Choice Award for Short Story Writing in Asian English Olympics in Jakarta, Indonesia
IMGKA Karate-do Tournament Participant and Performer in Okinawa National Theatre in Japan
1 Gold & 4 Silver Medals from Zen Okinawan Karate-Kobudo Tournament
Be Amazing. Be Southville.