The Southville College of Multimedia Arts (MMA) recently celebrated its 15th year with an alumni homecoming and the first of a series of recognitions called the Monarchs Outstanding Media Practitioner award. This year, the accolade was given to renowned Filipino film director, Jose "Joey" Javier Reyes. This aims to recognize and celebrate significant contributions in the media industry and milestones achieved by the industry's bests. "Direk Joey has been known in the media industry as a game changer and challenger. He loves changing the landscape of the industry through his films and works of art," shared by Ms. Kristen Gabutero, Southvillle alumna and College of Multimedia Arts Coordinator.  Just recently, a thesis project entitled "Tip Toe " by Southville students Ron Daliva, Naomi Francisco, and Emi Nagasako and " Huli" by Kayla Loberiza made it to CINESTUDYANTE, the first-ever Filipino all-student short film festival spearheaded by direk Joey himself.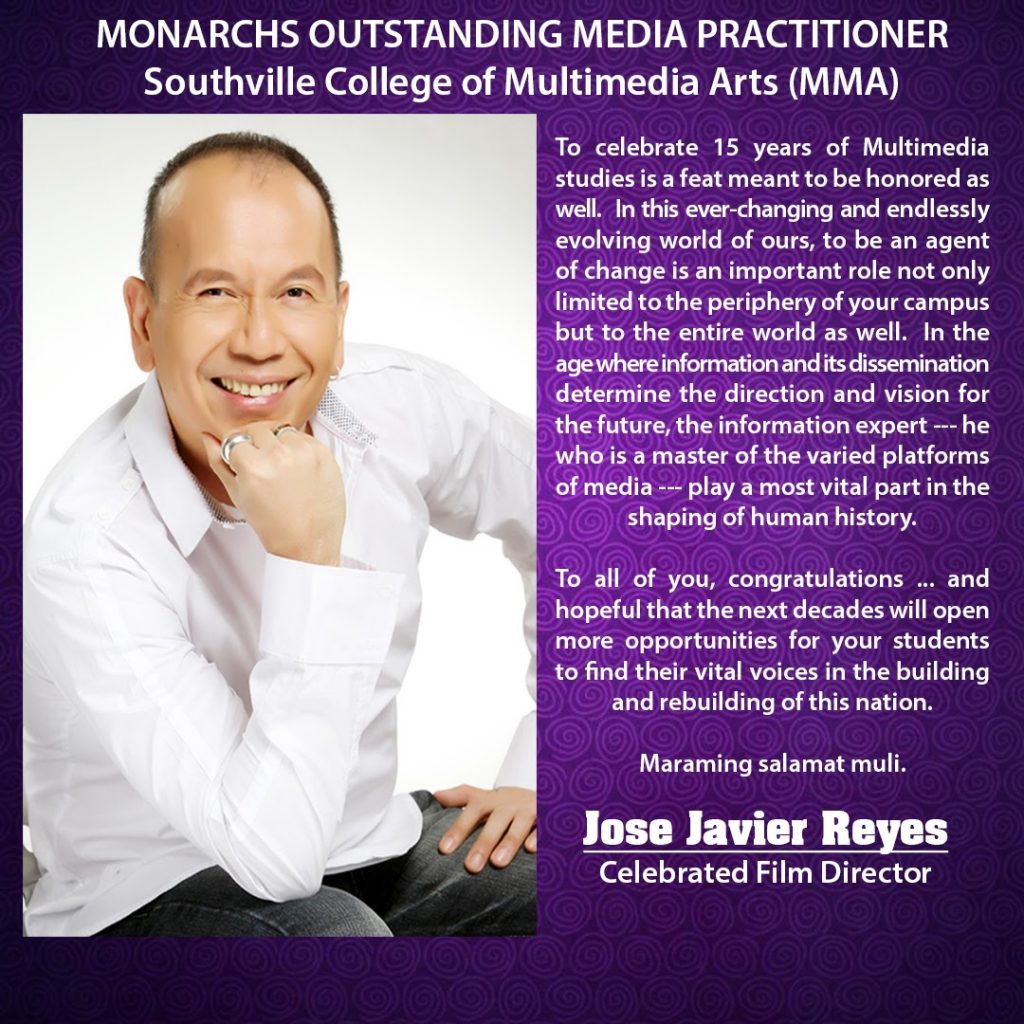 "Southville International School and Colleges believes it is the responsibility of educational institutions to honor outstanding individuals who have made an impact in the country and around the world, as this reinforces the attributes and values that the school wants to instill in the students. This year marks the first of a series of "Monarchs Recognition" awards that shall be bestowed on notable practitioners in selected fields. For AB Communication and AB Multimedia Arts, the first recipient of the "Monarchs Outstanding Media Practitioner" is given to renowned film director Jose "Joey" Javier Reyes who with his numerous breakthroughs in Philippine cinema has changed and improved the landscape of the multimedia industry. Like Director Joey, we encourage our students to be visionaries that develop their own style in filmmaking with a deep sense of nationalism so that they may be instruments in preserving and deepening the love and appreciation for the Philippine culture." – Dr. Felma Carlos – Tria , Dean, College of Communication and Multimedia Arts.
15 years and counting…

The "Advent" , a celebration of homecoming and widespread success both for the Multimedia Arts program and its alumni as well as the rise of a global artistic pursuit being chased by its prodigies. Graduates worldwide extended their gratitude to their " MMA family" which molded their creative inclination and holistic media literacy especially in the digital age. A commemoration was held through "a timeline" exhibit featuring the bests of MMA from award-winning artworks to extraordinary contributions by its student and faculty. On its 15th year, the division welcomed the newest members of its community joining its roster of trailblazers setting unconventional artistic perspectives that will definitely transform MMA in Southville further. The program has grown from a humble creative hub with a world-class vision to a sophisticated guild of virtuosos consisting of students, graduates, and faculty recognized for their "work of art" meeting the actual industry standards. It was launched in 2004, formerly known as "Media Arts" with only six students and was rebranded in 2010 as "Multimedia Arts". The facilities feature a state-of-the-art Media Center which houses the latest video and still cameras, video editing equipment,2D/3D, an E-News Room, a drawing room, and other graphic softwares allowing students to become industry-ready and maximize career opportunities through Southville's linkages with various media, PR, and creative agencies. 
Team Profile

The College of Multimedia Arts is fortunate to have its current dean and director for higher education, Dr. Felma Carlos – Tria, a media practitioner. Its Board of Advisers is comprised of Ms. Grace Dimaranan, Ms. Lulu Pascual, Ms. Tessa Jazmines, Ms. Rica Arevalo, and Mr. Seymour Sanchez together with industry practitioners as faculty members through the years, enabling the students to learn and experience the different practices and trends in the industry. Among them are Ms. Rica Arevalo, an award-winning Cinemalaya director; Mr. Ryan Benitez, the Community and Talent Manager for Wattpad Philippines; Mr. Jojo Nones, a director and creative consultant for GMA7; Ms. Wowie Hao, a cinematographer and actor; Mr. Melvin Moso, a 3D animator and a voice actor; Ms. Mylene Manalo, a financial specialist and sales trainer; Mr. Julius Segovia, a former field reporter for GMA7 and journalist for Abante Tonite; Mr. Jepster Togle, a videographer and colorist; Ms. Marilou Gonzales, who is currently finishing her masters in Communication Development in UP Open University; and Mr. Calon Baltazar, a graphic/web designer and a former producer for TV5. Two alumni have also joined the faculty roster – Ms. Kristen Gabutero (pioneer batch 2008), who worked as a freelance graphic artist, video editor for Thirty Six-O, and a segment producer and editing supervisor for TV5, teaches design and photography subjects and is the current Coordinator for MMA; and Mr. John Michael Manansala (batch 2012), who put up his own production house Cross & Arrow, teaches editing, production, and portfolio subjects. Faculty with international background also teach in MMA – Mr. Joey Reboredo, who teaches the drawing subjects, took his masters drawing and painting in Italy; and Ms. Ria Caronongan, who took her masters in Media Cultures in Hong Kong, teaches research, writing, and socio-cultural subjects.