The exhibit will showcase "Food of the Future", a wide range of craft-works done collaboratively by SISC IB student volunteers to portray how neglecting the environment we inhabit will result in such food to be on our tables in the near future.
Further, the event will also feature "The Lighthouse Project", a visual art exhibition-centered on mental health advocacy-by SISC IB student volunteers. Profits earned from the artworks will all be donated to Talang Dalisay-an organization dedicated to a likewise advocacy.
The Exhibits will be on September 22, 10 AM – 7 PM at Cortes de Las Palmas.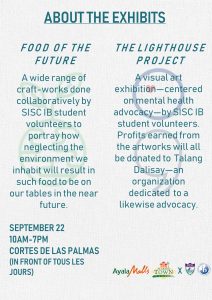 © Alex Derpo