To ensure continued academic excellence while students and faculty stay at home, Southville International School and Colleges (SISC) is launching the Virtual Online Learning and Teaching (VOLT) for preschool, grade school, junior high school, senior high school, International Baccalaureate, college, and graduate school. Southville features a Flexible Learning Program where students may choose from.
Full Virtual
Teacher-Led
Virtual Interactive Classes
Voluntary Parent/Guardian Participation
Blended (Basic Education) / Mixed-mode (College)
50% Online Interaction
50% Face-to-Face Interaction
Full Face-to-Face Program with Social Distancing
Physical Class
Limited Number of Students with SOCIAL DISTANCING … as permitted by the government
The Southville Virtual Online Learning and Teaching or Southville VOLT uses the Online Learning Management System (LMS) through MOODLE and Khan Academy. Collaborative apps such as the Google Productivity Suite (Docs, Gmail, Meet, Hangout, Google Classroom) are used to encourage class interaction, engagement, and promote effective learning. More sophisticated areas of online learning management namely Flipped classroom, Big Data Analytics, Real-time data, and E-mail notifications to parents are being used to manage student's progress and connect with students and parents. The LMS (Moodle) allows students to access all notes, lectures, formative assessments, announcements.

While internet connectivity is a basic requirement in learning successfully online in a class, students and parents need not to worry about internet connection as lessons will be recorded live while the rest of the lessons will be uploaded on Moodle which the students can access 24/7. Southville will provide workshops for parents, guardians, and caregivers to model desired home digital learning practices, teach basic digital literacy skills, establish communication channels, share techniques for evaluating their child's progress, and offer more ongoing social, academic, and technical support to families. The students are given emotional support through the programs of our in house Counseling and Psychological Services (CAPS) such as sponsorship, mentorship, peer counseling, and one-on-one counseling among others. Further, for Basic Education, each class has a homeroom adviser who supervises the students. Southville guarantees virtual online teaching expertise, a positive learning environment, and an international curriculum following the global academic standards. The Virtual Online Learning and Teaching (VOLT) at Southville is powered by Moodle, Google Classroom, Coursera, Zoom, and Khan Academy.

The Virtual Online Learning and Teaching (VOLT) Programs for Basic Education include:

Preschool
Grade School
Junior High School
Senior High School
International Baccalaureate Diploma Programme
Higher Education Virtual Online Programs at Southville

Southville International School and Colleges – Higher Education Division keeps up with the rapid pace of the digital age. The topnotch programs offered include different fields such as medicine, business, and technology attainable for four years. This will be initially offered for AY 2020-2021, first semester, and may extend depending on the government's mandate.
The Virtual Online Learning and Teaching (VOLT) Programs for College include:

AB Communication
AB Multimedia Arts
BS Psychology
BS Information Technology
BS Accountancy
BS Tourism
BS Nursing
BS Business Administration major in:
-Marketing Management
-Human Resource Management
-Financial Management
BS Entrepreneurship
Bachelor of Elementary Education
The Virtual Online Learning and Teaching (VOLT) Program for Graduate School include:

Master of Arts in Psychology
Master in Business Administration
Master in Information Technology

For more information:
Email us at:
officeoftheregistrar@southville.edu.ph
pr@southville.edu.ph
Call us at:
09062085383 | 09178532450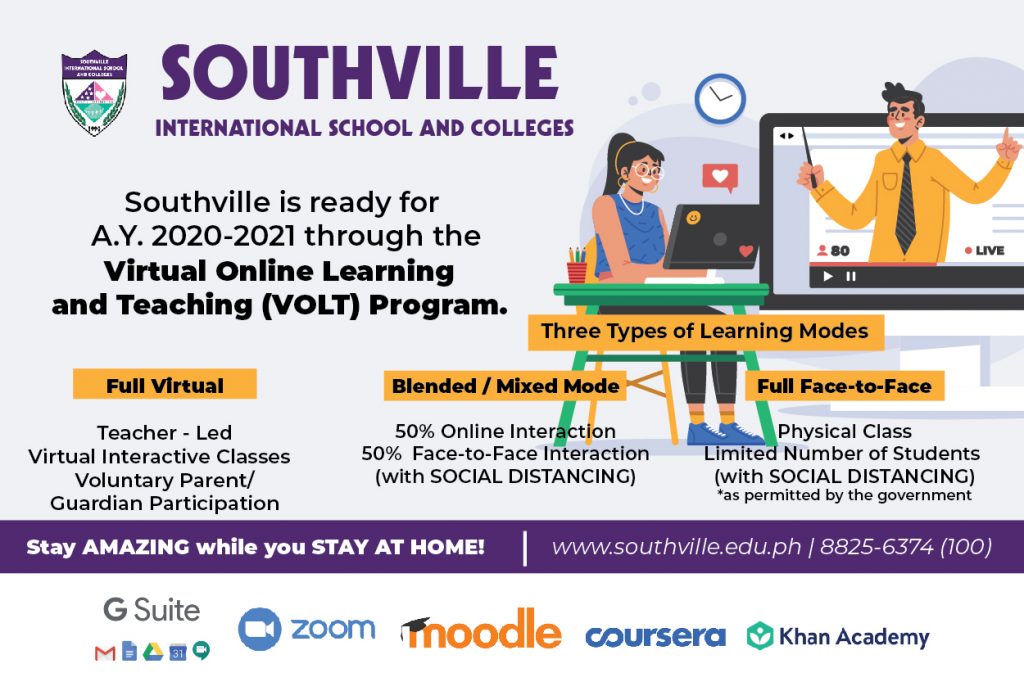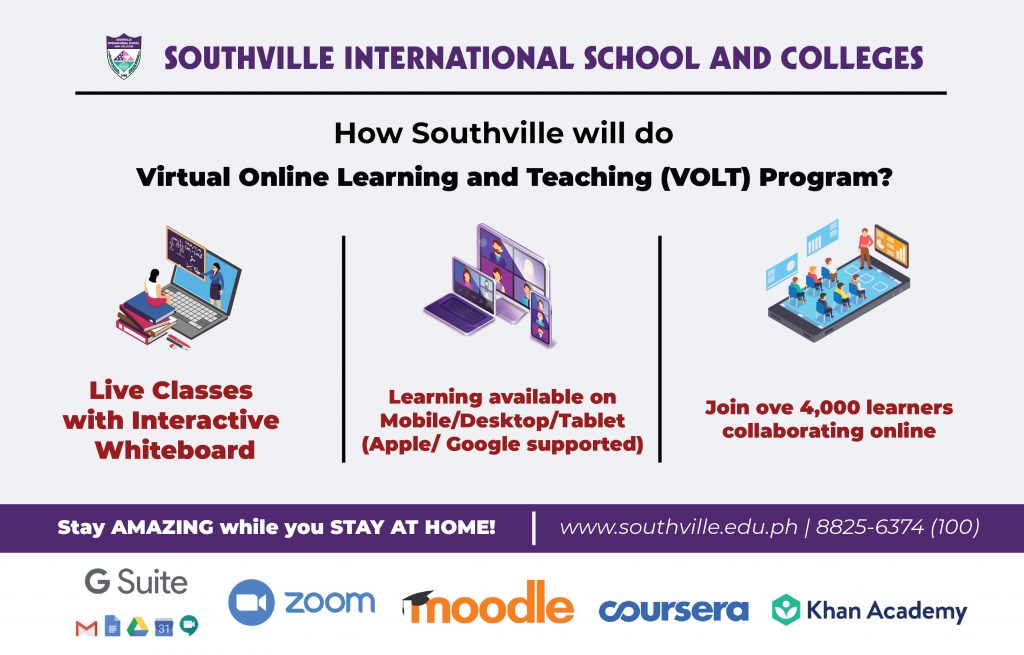 Southville International School and Colleges (SISC) is a member of Southville Global Education Network (SGEN), alongside Southville International School Affiliated with Foreign Universities (SISFU), South Mansfield College (SMC), Stonyhurst Southville International School (SSIS-Lipa) , Stonyhurst Southville International School – (SSIS – Malarayat), South SEED – LPDH College (SSLC), and Asian-SEED Academy of Technology (ASAT). All SGEN schools will be offering the VOLT program for Academic Year 2020-2021. Please refer to their respective websites for inquiries.
SISC – Las Piñas https://www.southville.edu.ph/
SISFU – Las Piñas http://www.sfu.edu.ph/
SMC – Muntinlupa http://www.smc.edu.ph/
SSLC – Las Piñas http://sslc.edu.ph/
SSIS – Malarayat / Lipa https://stonyhurst.edu.ph/malarayat/
ASAT – Las Piñas https://www.facebook.com/AsianSEED/

Stay AMAZING while you STAY AT HOME!