The College of Tourism is set to hold Tourism Expo 2018 on September 20 and 21, 2018.
With the theme "Transforming our World, the 2030 Agenda for Sustainable Development", the event will have Attorney Reynaldo L. Ching as keynote speaker and will feature various activities such as a Quiz Bee, Poster Making Contest and the Search for the Junior Ambassadors.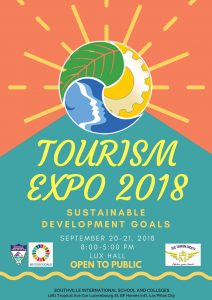 Ms. Nancy de Guia, Tourism Dean shares, "We are excited about this event. The theme is very timely and we are one with the world in spreading Sustainable Development Goals."
The celebration is open to high school students who wish to experience BS Tourism at Southville. For slot reservation, message Elyds Reyes at 09062085383.