"When he got back from school, he asked me if he could spend the money he got last Christmas to buy rice, medicine, diapers, milk, and canned goods," shared the parent of five-year-old Julian Marius Hermano, a Senior Kinder student at Southville International School and Colleges (SISC) to support the school's relief efforts for the victims of the Taal Volcano eruption.

Marius ran to his mother after school to show the list of goods the school accepts for the Taal evacuees. " Mommy, I'm going to donate some of my toys. Teacher showed us a list. The people from Taal needs clothes, pillows, sheets, shoes…," Marius said. He and his mother spent the rest of the day "rummaging through their stuff". Marius even told his mother to give his Christmas cash gifts for other things his mother could buy like medicines, milk, diapers, etc. 

They found themselves finally lying in bed after long hours of packing when Marius said he is "still bothered" thinking of more stuff to give enough for the needs of Southville Taal beneficiaries. "I can't sleep, Mommy. I'm still thinking of ways to donate and help them," he said. At a tender age, Marius has shown the character of a true-blooded Monarch with a heart for service. The young boy may be capeless but he has heroically taken little steps to help people whom he may not know but genuinely cares for.

Little Marius was excited to go to school the next day with the donations that filled his mother's car containing almost everything he saw in the list given by his teacher.


"Hearing Marius' remarks made my day. I talked to him and he said, his mom will buy more goods using his money.  I told him that it's so nice and kind of him to do that and he smiled at me like an angel. We try as much as we can to teach our students the values of sharing and empathy, and I am happy that it is becoming more and more evident among our students. We want them to be cheerful givers and students who can make a difference," shared Ms. Phi Anh T. De Castro, Early Childhood Education (ECED) Deputy Principal. 

Southville for Others (SFO) in Taal, Batangas

Southville Global Education Network (SGEN) member schools joined forces for the victims of the Taal Volcano Eruption. Southville International School and Colleges (SISC), Southville International School Affiliated with Foreign Universities (SISFU), South-Seed LPDH College (SSLC), South Mansfield College (SMC), Asian Seed Academy of Technology (ASAT), Stonyhurst Southville International School Malarayat (SSIS – M), and Stonyhurst Southville International School Batangas (SSIS – B) partnered with Rotaract and Lyceum of the Philippines University (LPU) Laguna through Southville for Others (SFO). Students, teachers, alumni, employees, and even parents helped pack and distribute the collected goods to five (5) evacuation centers, one (1) disaster command center, and one (1) warehouse in Sto. Tomas, Batangas last January 18. More than 4,800 evacuees from 963 families from Brgy. Pulo, Talisay, Taal, Laurel, and Agoncillo received the donations.
Employees of the SGEN member schools from the metro (SISC, SISFU, SSLC, ASAT, and SMC ) eagerly initiated the #SouthvilleforTaal drive in which the latter notably allotted its 2019 Foundation funds to express their support. While Stonyhurst Southville International School (Batangas and Malarayat) campuses spearheaded the immediate allocation of basic needs to nearby affected communities. In a span of three days, SFO collected and eventually distributed 965 packs of goods, ten thousand (P10,000.00) worth of medicines, and a total amount of two hundred twenty thousand pesos (P220,000.00) cash from individuals and departments of its member schools while donations are still pouring for the outreach in progress.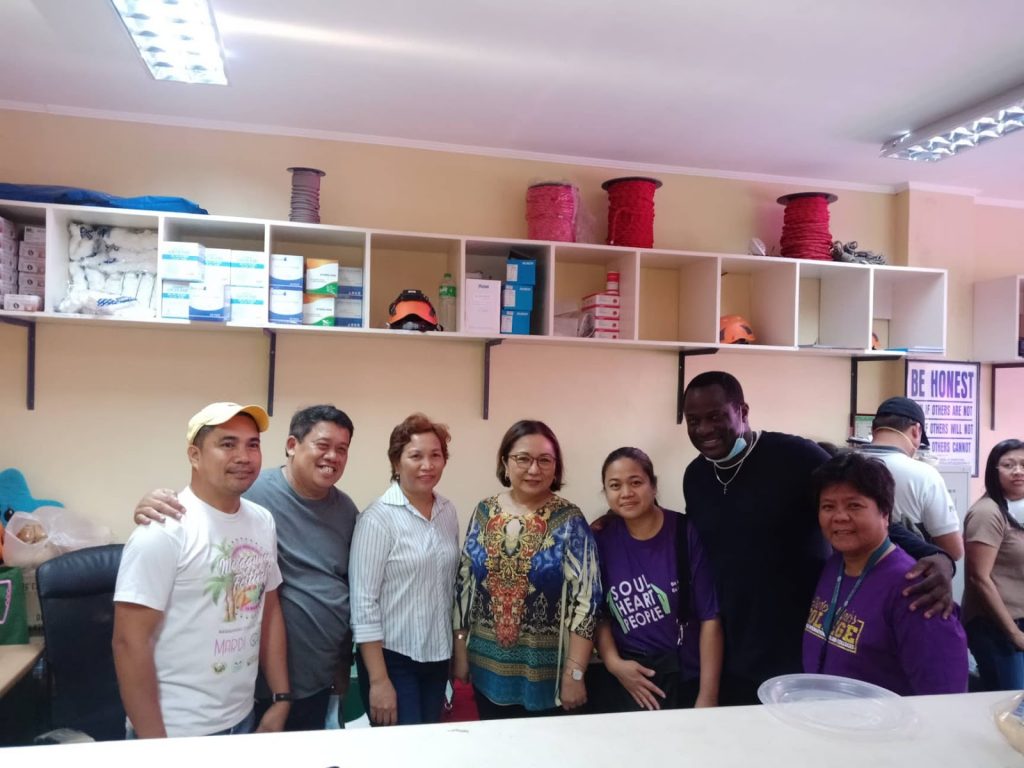 SISC students eagerly participated in the Taal relief drive with grade-schooler Max Gallos sharing his day's baon while Francis Granaderos emptied his piggy bank in high hopes that their humble efforts could reach the beneficiaries. College students meanwhile joined the SFO Team in Batangas to personally distribute the relief goods. Multimedia Arts students notably made use of digital platforms to reach out to donors overseas, receiving cash donations in dollars through Paypal.