Eighteen student delegates, forty-three SILVER medals, sixty-six GOLD medals, one TROPHY… Monarchs showcased Southville's intellectual supremacy during their debut competition at the World Scholar's Cup – Tournament of Champions last November 16-21 at Yale University.
Cuitlauzina Brianna Cerbito, Akisha Julianne Cu, Renz Leobert del Rosario and Miguel Dominico Alzona made it to the list of Top 100 Champion Scholars awarded at the said competition where ALZONA and DEL ROSARIO were proclaimed Philippines' Rank 1 and 2 respectively.
Southville's commitment to its international character has been witnessed by global academic fellows through a powerhouse team:
Students:
Robert Constantine Rivera
Akisha Julianne Cu
Matthew Ezekiel Sybingco
Miguel Dominico Alzona
Nicholas James Gonzales
Syna Vastardis
Mikhail Astin Alzona
Io Carpiso
Park Hyuk Jin
Princess Mei Aguilar
Paul Andrew Tatad
Geoffrey Eliezer Borabien
Renz Leobert Del Rosario
Gabrielle Anindito
Jasmine Reeves
Cuitlauzina Brianna Cerbito
David Jacob Ramos
Rance Gabriel Llovido
Coaches:
John George P. Pastor (Head Coach,  Collaborative Writing and Debate Coach)
Eddielyn D. Bote (Debate Coach)
Mara Denisse Diwa (Debate Guest Coach)
Mylyn C. Botalon (Science of Memory Mentor)
Karen Paula S. Manalo (Science of Memory Guest Mentor)
Joseph Aristotle Gregorio  (Human Relationship Mentor)
Maria Patricia Belleza (History of Diplomacy Mentor)
Joratio S. Nuyda (Black Markets Mentor)
Alvin Rey M. Cana ( Literature Mentor)
Gianpaolo Rivera (Music Mentor)
Precious Daluz & Dabereth Baller (Art Mentors)
The Tournament of Champions was participated by 2,300 world scholars from 344 schools from 58 countries worldwide. Southville initially qualified at the regional and global rounds, took a tight grip on the long-awaited opportunity to make it at the final meet. Ten months of preparation were spent through rigorous mental conditioning, collaboration of Southville's top academic coaches, and thorough selection of students who had to pass the institution's standards on ACADEMIC COMPETENCE, INDIVIDUAL MATURITY, EMOTIONAL STABILITY, and COMPLEX CRITICAL THINKING.
"Ten months of hard work" as one of the team member recalled and said that summer became exhausting yet rewarding days of trial and error. The students together with the coaches could not hide the smiles on their faces with a taste of triumph that they will truly cherish as they bid Yale University a victorious goodbye. Their debut at the WSC is another proof of Southville's vision and mission to ensure students' success in the 21st century, celebrated worldwide.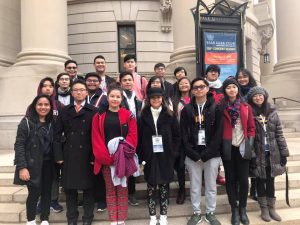 "In the most trying times, we learned to be more resilient in the face of adversity. We did not allow difficult circumstances to drain our optimism and enthusiasm, instead, we used them to accomplish this humble achievement. Our performance in our debut at the World Scholar's Cup 2018 is commendable. But as the culture of kaizen and growth mindset live in our hearts, we will come back stronger in the next season!" said Mr. Gio Pastor, IB English Instructor and Head Trainer.
For the summary of awards, click here: