Greetings from Southville!
On August 28, 2020, honorable Senator Pia Cayetano will be gracing Southville with her presence to share her insights on The Role of PE/Sports and Values Education in Nation Building via a free live webinar hosted by Southville International School and Colleges (SISC). This is open to SGEN faculty, students, parents, and stakeholders. The objective of this webinar is to advocate physical wellness amid the pandemic and camaraderie towards building a stronger, better nation. Southville commits to maintaining its community's physical wellness to prepare the workforce, academicians, and families for the challenges of the 21st-century. Southville also believes that a community of active and fit individuals is key to preparing the country for inevitable adversities such as the current crisis.
Senator Cayetano is a mother , a lawyer, a politician, and a triathlete. She was a former UP varsity player, UAAP champion, and captain of the Philippine Women's Volleyball Team. "She credits her leadership skills and discipline to her training and background as a student-athlete," her staff shared. Her various SPORTS EXPERIENCES are proof of how she values the crucial role that sports and physical education can play in promoting positive values and character-building among the youth; and the unique power of sports to cultivate national pride, unity, and development. Senator Cayetano is the author of the measure establishing the National Academy of Sports, which the President signed into law earlier this year. She has been a leading advocate for Filipino athletes, and has pushed for government support for sports programs, facilities, and events, including the successful staging of the 30th Southeast Asian Games last year.

Currently, Senator Cayetano is the Chair of the Senate Committee on Sustainable Development Goals, Innovation, and Futures Thinking, and Committee on Ways and Means, leading efforts to craft strategic policy to equip the country for the New Normal and the possible futures that lie ahead. Southville is beyond honored and excited to welcome the Senate's Pinay In Action.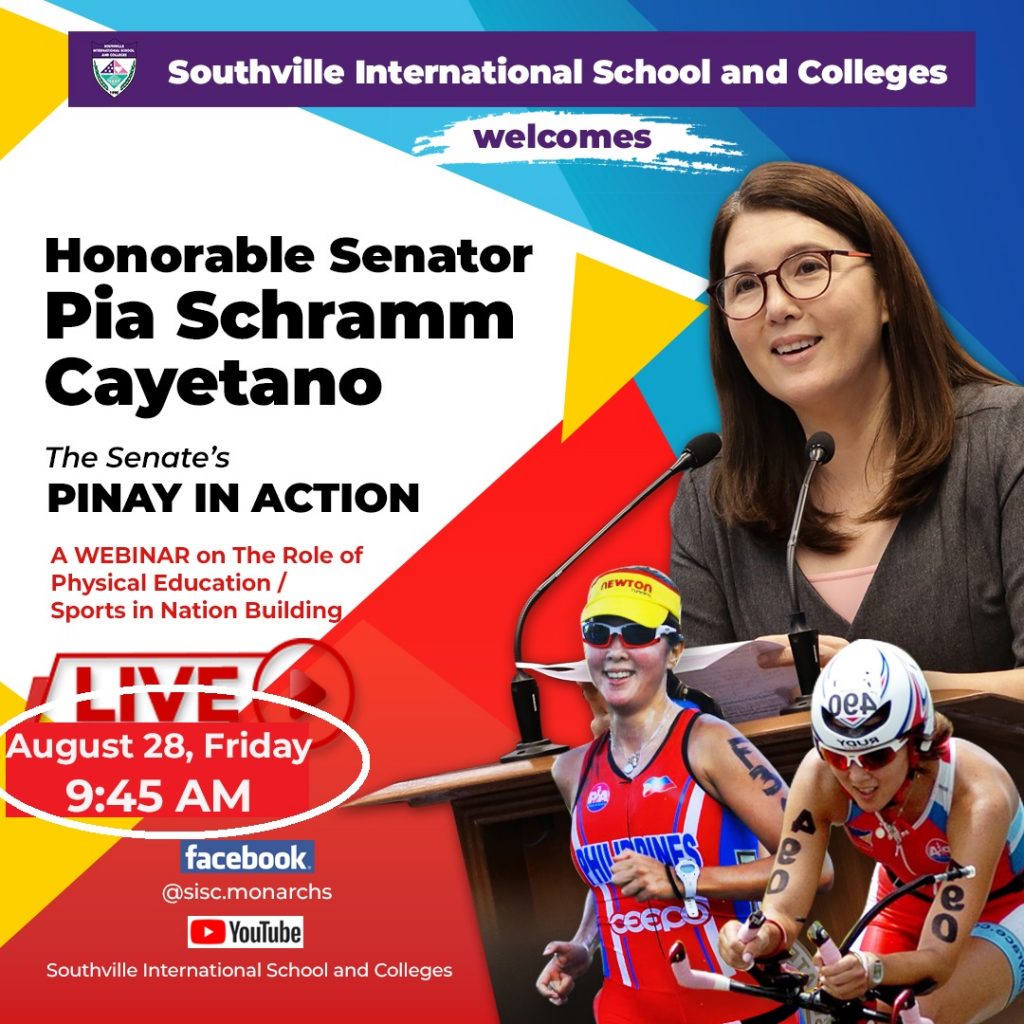 Furthermore, this webinar shall share the best practices of sports and their core values like leadership, respect, diversity, compassion, patience, and professionalism. With the drastic changes that have shocked the globe, it is envisioned that the teachings of sports must be restored and strongly advocated as we strive through the daily uncertainties of COVID-19. Southville sees the wide-range purpose of this webinar spearheaded by a veteran leader who has been enduring the country's challenges and is therefore aligned with the institution's core values, the 5Cs – Character, Competence, Collaboration, Creativity, and Commitment to Achieve.
Southville has been at the forefront of the country's rapid adoption of video webinar technologies to keep communities abreast of information concerning the pandemic and other matters beyond. Alongside Sen. Cayetano's invaluable and exciting online learning opportunity, Southville International School and Colleges has been conducting webinars on various topics such as international education, information technology, and the COVID-19 response.
Southville Life Webinars: https://www.youtube.com/playlist?list=PL7UcWkQscBuEPZrluCae6PV8PomZzfv3N

See you on August 28 at 10:00 AM.
The webinar will be LIVE on our official Facebook and YouTube accounts.
Subscribe to our YouTube Channel: https://www.youtube.com/channel/UCFf3oj-IjPxIWmUG7jwJrJA?sub_confirmation=1
Like us on Facebook: https://www.facebook.com/sisc.monarchs
Follow us on Instagram: https://www.instagram.com/southville_…
Follow us on Twitter: https://twitter.com/SISCMonarchs
To know more about Southville:
Email us at:
pr@southville.edu.ph
Call us at:
09062085383 | 09178532450
8825-6374 (100)

Visit our website: http://www.southville.edu.ph
Be Amazing. Be Southville.