Overview

Southville BS Psychology, a PACUCOA Level lll accredited program, is launching the Online Distance Learning (ODL) for the undergraduate level. Online BS Psychology is attainable in four years. Through ODL, Southville aims to provide wider access to global quality higher education and offer alternatives to students who cannot adhere to the structure of regular schooling . It covers the areas: clinical, educational, and industrial that give holistic advantage to its graduates for immediate employment. Students can study in their own pace with flexible schedule and in their preferred environment. The coursework includes research output, article critiquing, online course reflection, and case analysis to name a few. Graduating ODL students are required to accomplish the individual thesis consisting of two phases for completion: Research 1 (proposal) and Research 2 (final).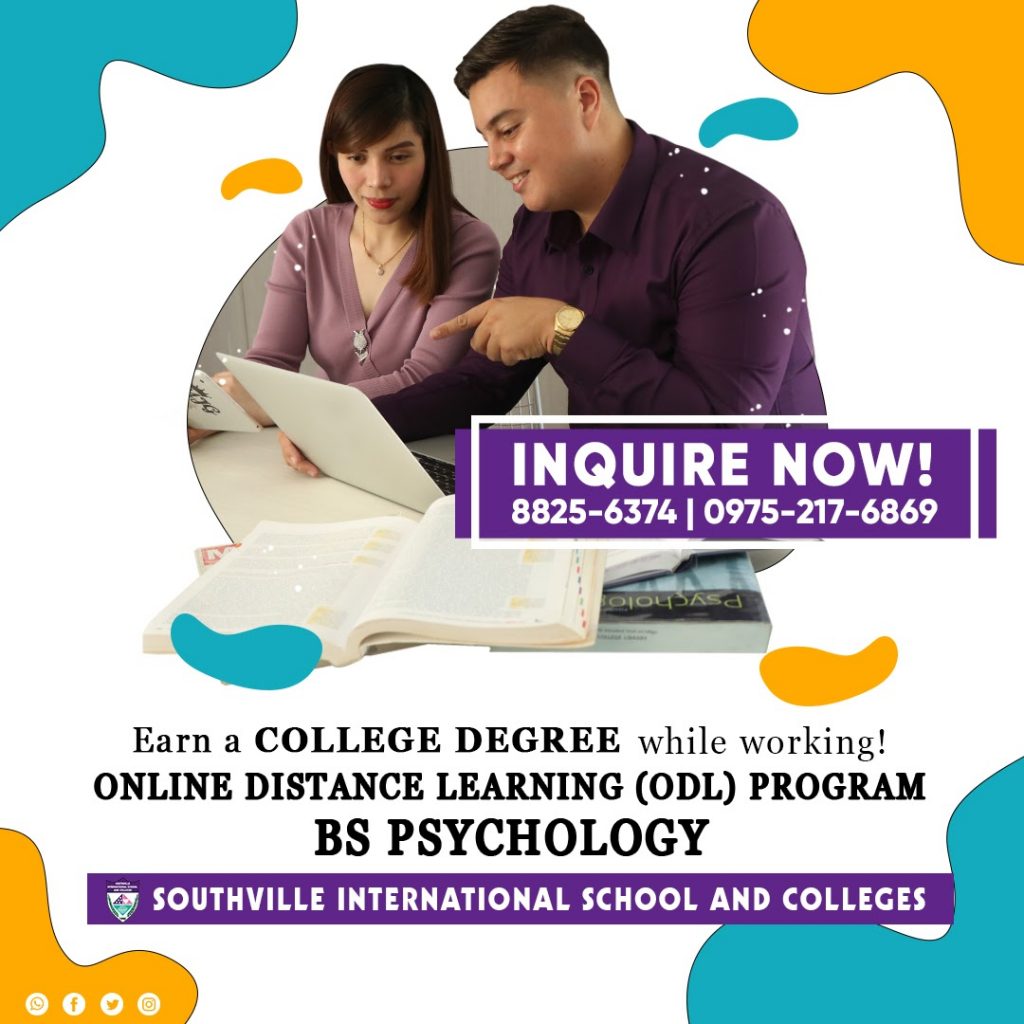 Why study Psychology in Southville?

First off, Southville College of Psychology takes pride in the academic venture of two of the country's premier actresses, Jodi Sta. Maria and Liza Soberano whose line of work impedes the face-to-face classroom setting. Being the choice of well-known personalities testifies to the credibility of its curriculum and faculty, the institution's ability to provide access to higher education based on a student's specific preference, and the quality of graduates who have obtained high passing rates for boards since 2016. Alumnus Oscar Fuentes lll, RPm made it as top 12 in the 2019 Psychometrician Board Examination. BS Psychology is a topnotch pre-medicine and pre-law course. More from its roster of competent graduates have pursued careers in medicine and law such as Atty. Ronaldo Robenta of LMA Law Offices, and healthcare professionals in top medical centers in south of Manila such as Dr. Christine Balalta and Dr. Jorex Oraa of Asian Hospital Medical Center and Dr. John Albert C. Tecson of Perpetual Help Medical Center.  Students also compete for research abroad to strengthen their competence in the global arena. Alumnus Airand Jacinto Uy received the Distinguished Paper Award at the 2017 International Symposium on Education and Psychology – Fall Session in South Korea while alumna Lia Amor Arcaina received the Best Research Paper Award at the 2019 Asian Association of School HRMD Practitioners, Inc. (ASSHPI) National Convention. BS Psychology in Southville has a competitive and responsive curriculum acknowledging the demands of various professions. Researches and studies of its students and mentors Psychology Dean Dr. Ruel Cajili, College Director Dr. Felma Carlos – Tria, and Vice President for Academics and Research Dr. Marjorie Guitierez Tangog are published in the Kaizen Journal and the Philippine National Library respectively. 
Mental Health Campaign in the 4th Industrial Revolution