Online alternative learning methods are utilized to aid teachers and students during inevitable adversities, natural and human-caused. The COVID-19 has caused school closures and interruption of learning worldwide as authorities work to rein in the spread of the virus. In view of this global crisis which threatens life and the productivity of industries, large and small worldwide, Southville embraces teaching efficiency, quality of student learning experience, and learning impact above par. The institution has long prepared for this and effectively implemented alternative learning technologies; the institution has, for a number of years, embraced courseware as an integral part of education with the use of Google Classroom, Moodle, and Khan Academy, to name a few.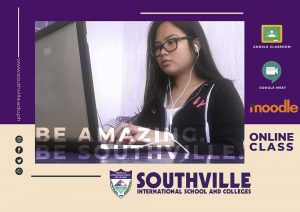 Loren Padua, an International Baccalaureate student, wakes up at 8:30 AM to meet with her teachers and classmates through Google Hangouts where the adviser conducts the class via video chat. Also, with the help of Google Classroom, Loren and her classmates keep track of the activities posted by their teacher. "And at the end of the day, they will monitor our progress by having us send screenshots of our finished works or by directly asking us what we have done during the day. The suspensions, however, do not hinder the students from learning in their homes." shared Loren.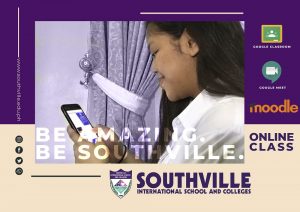 Kim Victoria, Grade 12, shares the fun side of the situation amid home-based learning. Seeing the faces of her classmates on-screen gets her excited to dive into class online. She also mentioned, "For the past few days, Google Hangouts has been Southville's means of reaching out to the students and making sure that their academics are still on track amidst having class suspensions due to Coronavirus."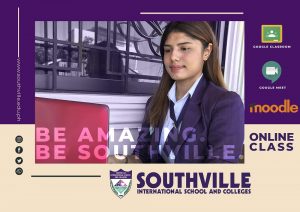 BS Psychology major Vianne Monica Jiwatramani is impressed with the versatility of Moodle, another alternative online learning platform Southville has been using with great success over the past several years. As she is expected to put in some extra effort to meet halfway with her classmates and teachers online, she has become more resourceful and flexible, appreciating the value of learning in a classroom setting while finding web-based academic discussions convenient as well. "Educational software like this eases the worries of the students and parents on missed classes. It assures that no one is left behind from lessons during class suspensions," shared Vianne.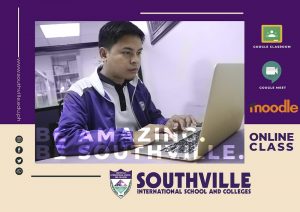 From a teacher's perspective, virtual classes bring both possible risks and positive discoveries. English Subject Area Head Mr. Alvin Rey Cana was surprised by how Google Classroom could monitor answers and allow him to give comments immediately. "Google Classroom would ask the teacher to set deadlines and provide real-time feedback and grading, so students see right away their scores after the teacher rates their answers. I have learned to be more creative in asking Higher Order Thinking Skills (HOTS) questions and have tailored the lessons that would cater to their needs," shared Mr. Cana.
These innovative virtual learning tools and platforms have been integrated into Southville's educational delivery for years. COVID-19 is a major threat and disruption across the world but at Southville, student learning continues uninterrupted especially now that it's 100% online. Courseware and other online learning technologies develop and encourage intellectual communication, intensive comprehension, and creative learning tactics of teachers, students, and parents on digital platforms promoting the productive use of technology. Experiential learning takes place during online classes. The absence of physical supervision encourages students to take initiative and explore different ways to achieve the best results. Students also apply different techniques to sustain camaraderie among members as the success of this learning method heavily relies on a higher level of "teamwork". Students will then discover additional skills they have obtained in the process, making them academically well-grounded in the digital age. The interplay between tasks and student drive is observed by teachers as they boost "learning by doing". Southville has always been ready to weather this crisis and ensure that no student is left behind through its innovative integration of online learning technologies that have been deeply embedded into the curricula and the lightning-fast pivot in learning delivery to 100% online. Southville's students have not missed a beat as they continue to learn and grow together virtually, each day becoming the future leaders and champions of the world.