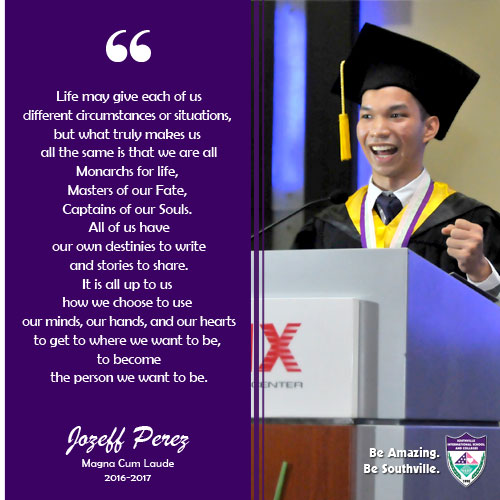 To our honorable guest, Senator Grace Poe-Llamanzares, to our Chief Executive Mentor, Dr. Genevieve Ledesma-Tan, to the President of Southville International School and Colleges, Dr. Marl V. Ferenal, and as well as the members of the management, to the professors of the institution, to the parents and loved ones of the graduates, and to you, my fellow Monarchs, mabuhay sa ating lahat!
Today, we celebrate the culmination of all our efforts. Today, after all the years of our education, the seeds of our determination have borne fruit.
It makes me remember how we've come to this point in life, all of the experiences we've had here in Southville. We've had our fair share of hardships and triumphs. Making friends, losing loved ones, getting lost in unfamiliar places, being found by familiar faces, failing a test, making a comeback, receiving help in times of need, giving help to those in need, falling in love, getting heartbroken, recovering and moving on, struggling to keep up with life, and enjoying every minute of it.
College life really has been one heck of a roller coaster ride for us. You know, these moments, however painful some of them might be, are actually blessings. All of these moments are time and effort well-spent, every second of it, every blood, sweat, and tear was well worth it.
These experiences have all become a part of our lives, the reasons we've become the person we see each day in front of the mirror. These are all essential, and like most essential things, they are invisible to the naked eye.
I hope that each of you, my fellow Monarchs, realize this, that life may give each of us different circumstances or situations, but what truly makes us all the same is that we are Monarchs for life, the Masters of our Fate, the Captains of our Souls. All of us have our own destinies to write, and our stories to share. It is all up to us on how we choose to use our minds, our hands, and our hearts to get to where we want to be, or to become the person we want to be.
So, let's all persevere, endure, and have fun! We MAKE the BEST of what is yet to come.
There is one final thing I want to share with you all. Even though all of us have the power and capability to do great things, always look back. Look behind you and around you. The faces you see are the people who've always been there, always doing their best in supporting our dreams and aspirations.
My Mommy and Daddy, my brother and sister, my Titas and Titos, and my Lolos and Lolas – buong angkan ko na nga – maraming salamat po sa lahat ng pasensya at suporta na binigay niyo sa akin. Lolo Pepe, di po ako nakapagsalita sa burol niyo. Patawarin niyo po sana ako. Iniaalay ko po itong tagumpay na ito sa inyo.
Our parents, our loved ones, our family deserve our thanks and gratitude, they deserve our warmest round of applause.
I also want to thank the following people so please give them your applause as well. Thank you to Doc Marj and Doc Felma for the assistance in the making of this speech. Thank you to Doc Remy and the staff of the Office of Institutional Research, Corporate Communication and Publications for all of the help you've given to me and the scholarship you've granted to me. More power to you and the TOPS program. Thank you to Sir Ruel and the staff of the Office of the College of Psychology for letting me do my capstone thesis with you. I won't be here without you. Thank you to all of the faculty and staff of the College Division. To the Student Affairs and Discipline Office, to Ms. Pauline, to Ms. Noli, to Ms. Choy, to the CAPS Office, to Ms. Belen, Ms. Juliette. Thank you for all the invaluable time you've spent with me.
Special mention to the members of the College of IT, to Sir Sandro, Sir Ducut, Sir Jeff, Sir Alfred, Ms AJ, Ms Claudine and our Dean, Doc Aris Ignacio. Saludo po ako sa inyong lahat!
I also want to thank my friends, my comrades, the whole class of IT. Tayo nga kayong lahat. Di pwede na ako lang nakatayo dito. Sama-sama tayong makararanas, sama-sama rin tayong makararaos. Walang magkakalimutan sa atin ah. 
My fellow Monarchs, we all have but one life YOLO: you only live once. So, let's all make a difference! Congratulations to all of the graduates of 2017.