2019 SEA Games Golf GOLD Medalist (Women's Team Event) and Southville homegrown alumna Abegail "Abby" Arevalo has finally reached the professional level for GOLF finishing TOP 1 in a Runway Fashion held in Las Vegas, Nevada. Arevalo finished by 11 strokes at the Stallion Mountain Championship of the Cactus Tour posting one of the highest victory counts on record. She has represented the Philippines against Sweden, England, Arizona, Hawaii, California, and Las Vegas. 
Arevalo has been training for the professional level and after her big hit at the 2019 SEA Games, she continuously harnessed her game in various tourneys towards the Cactus Tour in Arizona where she is currently residing.
Arevalo once shared in a previous interview with Southville that she never second guessed what she wanted to become and that is to be a professional golfer. Having spent years of intensive training from Philippines to abroad, the young athlete managed to obtain an international education at Southville International School and Colleges (SISC) which led to global opportunities for her academic pursuit. She was scouted to play for the varsity team of the San Jose State University (SJSU) which earned her a spot at the NCAA where her SEA Games journey also set forth. 
Fast forward to this year, on the day she received her professional title, Arevalo posted on her Instagram what used to be a dream and now a reality: 
"We did it. Not possible without my team. Can't thank my family, friends, and sponsors for their incredible support. Grateful for each and every one of you."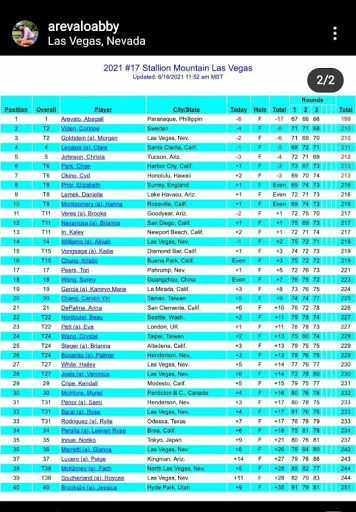 Congratulations, Abby. Your Southville family is proud of you!